Kaizer Chiefs
EXTRA TIME: Watch Kaizer Chiefs and Orlando Pirates anticipate Carling Black Label Cup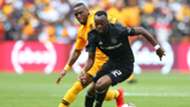 Orlando Pirates and Kaizer Chiefs participate in the new season's curtain-raiser on Saturday afternoon.
The winner will take home the 2019 Carling Label Cup and to get in the mood for the action we take a look at how the clubs and supporters have been anticipating the big game.
For the Soweto Derby, we have Kaizer Chiefs' George Maluleka talking to the fans to keep voting for the players they want to watch.
Then Pirates take the opportunity to show off the new kit they will be wearing for the match.
South African football television show Soccerzone previews the game, and so does Marawa Sport Worldwide, thanks to their official Twitter posts.
We can also watch Nigerian legend Jay-Jay Okocha talk about the derby, thanks to the interview from Carling Black Label.
Former England and Arsenal star Ian Wright talks about how impressed he is with South African supporters for this match, taken from an earlier video in the media launch.
Finally, former Kaizer Chiefs player Josta Dladla shares his opinion on the big clash.
Enjoy all the videos here:
.@GeorgeMaluleka is urging you, the supporters to continue being supportive and keep on voting in the CBL Cup #K4Lhttps://t.co/HsrAMaeTzl

— Kaizer Chiefs (@KaizerChiefs) June 10, 2015
@orlandopirates new kit #orlandopirates #CarlingCup bucs fans how to you like your new kit? pic.twitter.com/4i4PXkRaz1

— @malloonfootball (@malloonfootball) July 22, 2019
We've got @mapensela11 on our #CarlingCup segment! pic.twitter.com/d552vQ7fLb

— Soccerzone (@Soccerzone4sho) July 15, 2019
We now shift focus to #CarlingCup! #MSW https://t.co/8cZnv8BRMf

— Marawa Sport Worldwide (@MarawaSportShow) July 17, 2019
Nigerian soccer legend @IAmOkocha voted for rolling subs, which Game Changer did you want to see in the #CarlingCup 2019? pic.twitter.com/7Gfh0m0ySn

— Carling Black Label (@blacklabelsa) July 16, 2019
@blacklabelsa cup @M_SportsSA #CarlingCup #ChangeTheGame #CarlingCouch #GameChangers #27July #SowetoDerbyLoading #BoldAnalysis pic.twitter.com/LgjTq2hgCc

— Phumudzo Manenzhe (@TheBold27) July 14, 2019
Amazing scenes at Park Station Johannesburg for the Carling Black Label Cup Launch #OnceAlways #OrlandoPirates #KaizerChiefs #ChangeTheGame #ChangeTheGame pic.twitter.com/Hy6HPF95Wf

— Greater Midrand Orlando Pirates Branch™ (@MidrandBranch) May 28, 2019
#CarlingCup |

"I have never seen fans given so much power to control a Soccer match. Kaizer Chiefs need to up their game"

-Carling Black Label Cup ambassador, Ian Wright.#LimSportsZone pic.twitter.com/JLkA9lr2UM

— LimSportsZone (@LimSportsZone) May 29, 2019
Former @KaizerChiefs star Josta Dladla thoughts on the two teams ahead of the the Carling Black Label Cup match @Footballerian @alfavina @thandi_399 pic.twitter.com/mPyZIxOsI6

— FootballConversations (@footballconvers) July 8, 2019