WTF
EXTRA TIME: How Twitter reacted to Oupa Manyisa's Sundowns move and Micho's unveiling at Orlando Pirates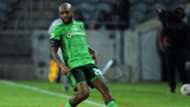 Bucs chairman Dr Irvin Khoza revealed the shocking news that Oupa Manyisa has joined rivals Mamelodi Sundowns, during the same press conference to unveil the appointment of new coach Milutin 'Micho' Sredojevic.
Watch videos of Micho talking to the South African media about how he's gained experience in Africa and is now ready for his new stint at the helm of the famous Soweto club.
There's also the surprising video of Khoza announcing the departure of Manyisa to the Brazilians. Then you can enjoy the hilarious reaction from fans about the latest news.
There's one supporter who noted that Oupa Manyisa's 'Done a Neymar' to Bucs by leaving for Sundowns. How do you feel about that Pirates fans?
#FarewellAce
Here's a look last time Oupa Manyisa lead the Mighty Buccaneers.#OnceAlways pic.twitter.com/28XFaZZC8I

— thandi merafe (@thandi_399) August 4, 2017
Micho: "Football is played for supporters and they are our driving force. I promise them blood, tears & hard work" pic.twitter.com/DpJydjMHDX

— Orlando Pirates FC (@Orlando_Pirates) August 3, 2017
Dr Khoza: "Oupa Manyisa will be joining Sundowns. He has an unbelievable record with Pirates"

— Orlando Pirates FC (@Orlando_Pirates) August 3, 2017
Mamelodi Sundowns will make an announcement in due course concerning Oupa Manyisa.

— Mamelodi Sundowns FC (@Masandawana) August 3, 2017
BREAKING NEWS:@Orlando_Pirates Captain Oupa Manyisa is now an @Masandawana player. pic.twitter.com/WmkHQof8d3

— thandi merafe (@thandi_399) August 3, 2017
Pitso Mosimane will transform Oupa Manyisa to a top class player Pirates will regret this

— Lebo. BZ95SR GP GTI (@Lebogang_Bucs) August 3, 2017
Orlando Pirates supporter to Oupa: COWnyinsa!!! 

Oupa Manyisa: Look at you hating from outside the TOP 8... pic.twitter.com/s2f9uEthog

— Khusta (@Mkhu28) August 3, 2017
My biggest fear is seeing Pitso Mosimane benching Themba Zwane for Oupa Manyisa pic.twitter.com/1KP5OZXVVY

— Excommunicado (@biyela_bongz) August 3, 2017
Oupa Manyisa next season on Mamelodi Sundowns.

*Warming up the bench* pic.twitter.com/tmVVxIYySm

— ®Azee (@TheRealAzee_RSA) August 3, 2017
Players who must follow Oupa Manyisa :
Gabuza
Sarr
Makola
Jele
All 4 Goalkeepers
And 5 skippers too

— Bhubesi da Alchemist (@mabasotf) August 3, 2017
Oupa Manyisa was hopeful askies boy  pic.twitter.com/VMuuoMN1TE

— Badfellaz  (@BadfellazSA) August 3, 2017
Oupa Manyisa just pulled a Neymar on us, Goodbye with your back passes we won't miss you #OnceAlways

— Mdu Kubheka (@Claude_Levi) August 3, 2017
I love this coach Micho already .  @Orlando_Pirates u beauty  pic.twitter.com/u9VLwwHk2b

— Dj Shoes (@DjShoesSA) August 3, 2017
A highly decorated Coach Micho shared some of his achievements @Orlando_Pirates press conference. pic.twitter.com/BGLAYZqUcd

— thandi merafe (@thandi_399) August 3, 2017
Micho: "At this club you must be ready to deliver so the first match against Chippa United will be like a Champions League semi final". pic.twitter.com/fcUWFR6ih2

— thandi merafe (@thandi_399) August 3, 2017
Micho: "I have worked very hard and gained a lot of experience in the last ten years and reached a stage where I was ready to come back". pic.twitter.com/KYvIMc3q7s

— thandi merafe (@thandi_399) August 3, 2017
Orlando Pirates fans when they realise they'll have to learn how to pronounce the name of a new coach again
(Milutin 'Micho' Sredojevic) pic.twitter.com/Gf8W8wq99o

— SHASHA  (@IamCosRSA) August 3, 2017
Coach Micho appears to no longer have money problems! pic.twitter.com/SWgykp07Yf

— Kawowo Sports (@kawowosports) August 3, 2017
Micho is a Buccaneer again!! pic.twitter.com/MVYIcN0SSL

— Dominic Chimhavi (@DChimhavi) August 3, 2017