African All Stars
EXTRA TIME: Emmanuel Adebayor to support 90 Togolese children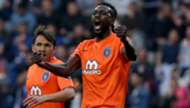 İstanbul Başakşehir forward Emmanuel Adebayor continues his good deeds in his country, Togo by committing himself to support 90 children for a period of one year.
The 33-year-old started a tour around his country and visited Kara, a northern city in Togo where he played a football game with friends and donated food items and school supplies to children.
In addition to his surprise for the people of Kara, the former Crystal Palace and Tottenham Hotspur attacker promised to continue his charitable act for the next 365 days to 90 children when he visited a village of the children SOS.
Adebayor is set to take his tour to the second largest city in Togo, Sokode as he enjoys his summer break.