African All Stars
EXTRA TIME: Emmanuel Adebayor remembers 2010 attack on Togo national team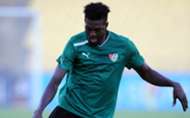 Istanbul Basaksehir's Emmanuel Adebayor remembered the terrorist attack launched on the Togolese national team that killed three and injured nine persons on January 8, 2010 in Angola.
The west African contingent were attacked by gunmen as the journeyed through Cabinda for the 2010 Africa Cup of Nations in Angola, it was reported that the siege lasted for 30 minutes as the players crouched under bus seats.
Bus driver Mario Adjoua, the team's assistant manager Abalo Amelete, and media officer Stanislas Ocloo were killed as a group promoting independence for the province of Cabinda, known as the Front for the Liberation of the Enclave of Cabinda - Military Position (FLEC-PM), claimed responsibility for the attack.
Following the unfortunate experience in the Angolan province, the Sparrow Hawks subsequently withdrew from the tournament.
And the former Arsenal and Real Madrid player has paid respect to the fallen Togolese heroes while calling for unity in the country.
SEA, Jan 8 2010-Jan 8 2018. Its now been 8 years since our TOGO team bus was attacked by terrorists in Cabinda. 2 people were killed & others injured. I pray 4 all the families involved in this deadly tragedy.Thankful for everything. Lets stay strong,lets stay united 🇹🇬 pic.twitter.com/dqsRuuV9UR

— Emmanuel Adebayor (@E_Adebayor) January 8, 2018