WTF
EXTRA TIME: Benni McCarthy and fans react to Cape Town City vs. Maritzburg tunnel fight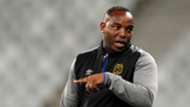 Cape Town City coach Benni McCarthy is seen in the thick of the action with his players rushing into the team tunnel and getting involved in a bust-up with Maritzburg United.
A number of McCarthy fans have come out in support of the FC Porto legend, but on the other hand he is also receiving his fair share of criticism.
One can read all the reaction on Twitter, with the highlights included below. As reported on Goal earlier in the day,  this is what enraged both teams at the end of the game.
"Things got heated when Rushine De Reuck went to fetch the ball on the Cape Town City bench only for one of the club officials to withhold it in an attempt to the delay the game. 
"At the time, the Citizens were leading 3-2 deep into stoppage time, and De Reuck wanted to resume play as soon as possible as his side was looking for a goal that would have salvaged a point for them. De Reuck then shoved the official but the City bench reacted angrily in retaliation and protested that the Maritzburg Utd player be given his second yellow which the referee did, resulting in a red card. 
"As the player left the pitch, the fourth official alerted the match referee that the Cape Town City official was also guilty and that also resulted in a dismissal. The two individuals took their fight to the tunnel, and the two benches rushed to intervene, with City head coach Benni McCarthy as well as Maritzburg United goalkeeper coach Ronnie Kananelo among those who went in to protect their own. However, it is unclear at this stage as to who started the fight between De Reuck and City's official in the tunnel."
Benni McCarthy claims that he was defusing the situation there but he's caught on camera ekrwitsha enye indoda.

— D Y A N I (@tdyani) February 26, 2019
Benni McCarthy must be arrested

— Tshifhiwa (@blackpresidante) February 26, 2019
"The provocation and players snapping is because of the situation they're in. For us we are very touchy after injuries to Nodada and Putsche. We also want to show we are not pushovers. The tunnel incident was just a continuity"- Benni McCarthy on the brawl @SAfmRadio @SPORTATSABC

— Tracksuit (@ThabisoMosia) February 26, 2019
"This time I was diffusing the situation. This time I was not in the middle of it. But when I was stopping one, then another fight would break out. When you're rock bottom the tempers will flare cos they wanna get out" Benni McCarthy on the brawl @SAfmRadio @SPORTATSABC

— Tracksuit (@ThabisoMosia) February 26, 2019
"I saw the commotion and when I looked, I saw Rusike and then their players coming towards our bench. I genuinely don't know what caused it.But De Reuck pushed my coach Riaan.Obviously our players are not gonna keep quiet"- Benni McCarthy on the brawl @SAfmRadio @SPORTATSABC

— Tracksuit (@ThabisoMosia) February 26, 2019
Pitso Mosimane sees a future Bafana Bafana coach in @CapeTownCityFC Benni McCarthy, Do you agree? 🤔 pic.twitter.com/U2k6BGodAM

— ZoBo Football Blog (@ZoboFootball) February 26, 2019
Footage has emerged of Cape Town City head coach Benni McCarthy involved in a shocking altercation

— Tuks FM 107.2 News (@TuksFMNews) February 26, 2019
#BenniMcCarthy: Footage has been circulating on social media of Cape Town City head coach Benni McCarthy who was allegedly involved in a brawl in the players' tunnel after a heated Maritzburg United clash on Saturday. Your thoughts?
Send us a WhatsApp voice note to
082 777 0735.

— Open News (@OpenNewsSA) February 26, 2019
Benni McCarthy in the area!

— Simnikiwe Xabanisa (@simxabanisa) February 26, 2019
Benni McCarthy is a media favourite that is why his touchline antics are always overlooked, but if it was Pitso or a coach from Chiefs or Pirates journalists would be baying for blood. It helps having friends in the right places.

— Maphango ❤🖤💚 (@zukoZEKA) February 26, 2019
Benni McCarthy is always in a 'phuma silwe' mood.

— Tshezi (@simphiw_) February 26, 2019
Dear ladies.... Get yourself a boyfriend that will protect you the way Benni McCarthy protects his Cape Town City players.

Thank me later.

— Marks Nkuna (@MarksNkuna) February 26, 2019
No difference to the Benni Mccarthy one that the media is ignoring

— Ole Ball (@KabeloBafana) February 26, 2019
No slander against Benni McCarthy shall be tolerated here. That man can never do wrong in my eyes. I blame the other guy, he probably provoked my man first. 😆

— Sephiri Mosothoane™ (@SEPHIRI_M) February 26, 2019
Benni McCarthy most of the time isn't a good example to his players and the kids.If it isn't him swearing on tv then he is fighting. https://t.co/iYxNkT39z1

— Sundowns Fanatic 🌟 (@Madumetja_SoLo) February 26, 2019
Benni McCarthy is going to be dealt with, he will learn. He had his hand on the guy's neck 😭😭

— Tshezi (@simphiw_) February 26, 2019