Liverpool
EXTRA TIME: Bacela spreads internet video of Mo Salah being 'angry' with Firmino's goal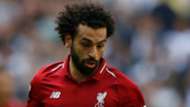 One of the Twitter posters was former Orlando Pirates striker Lennox Bacela. South African fans were disappointed that for a striker, Bacela couldn't interpret Salah's reaction as a mixture of joy and relief.
The Egyptian forward was responsible for PSG's equaliser after he made a stray pass in midfield. Liverpool coach Jurgen Klopp then substituted Salah for Xherdan Shaqiri. In injury time Roberto Firmino scored a stunning winner to clinch the game 3-2. Salah was then relieved that his mistake didn't cost his team two points.
In the video that Bacela posted, Salah is seen just banging his water bottle after the goal went in. Bacela spread the video and many fans reacted with confusion as to why the African star would be angry at a goal his own team scored. 
Some fans pointed out that Salah was becoming 'selfish like Cristiano Ronaldo'. However a fuller video of the incident reveals that Salah did celebrate Firmino's goal. So, it is misleading that there are many videos that don't show the celebration but only highlight Salah with his bottle.
Perhaps Bacela has realised his mistake by now. 
Why is Mo Salah angry for the winning goal? Smh pic.twitter.com/LzsfASBMNt

— Lennox Bacela (@lennoxbacela) September 18, 2018
#Salah "not" celebrating #Firmino's goal. Haters will say anything to ruin the night. #LFC pic.twitter.com/SV0DD2YlcB

— Thanos Zed (@RVRThanos) September 18, 2018