WC Qualification Africa
Nigeria Supporters club sends out battle cry ahead of Cameroon clash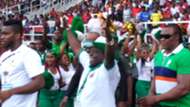 President General of the Nigeria football and other sports supporters club, Rafiu Ladipo has revealed the club's plans to spur Nigeria to triumph against Cameroon.
Gernot Rohr's men face a stern double-header fixture against Cameroon on September 1 in Uyo and September 4 in Yaounde, as they continue their push for a ticket to 2018 Fifa World Cup in Russia.
And the supporters chief said the club will stand firmly behind the three-time African champions and cheer them to victory as they remain upbeat of Nigeria's qualification to the World Cup.
However, Ladipo who is disappointed with the Super Eagles' absence from the last two editions of the African Cup of Nations warned that any other result apart from a total victory will not be welcomed by Nigerians.
"We do not expect anything from the Super Eagles other than a total victory against Cameroon," Ladipo told Goal.
"And in view of that, the supporters club launched 'Operation taming the Lions of Cameroon' and that has to do with members of the club parsing everything to be used for the match.
"And two days to the match, we will be fasting because in football no matter how good a team may be, you need an element of luck for you to win. That's why through our fasting and prayers, we are asking God to give us luck and make us victorious.
"The Indomitable Lions have been talking tough, and there is nothing wrong with that but they will not come to Uyo and defeat the Super Eagles."
"This time around, whatever it will take, we will do to see the Super Eagles come out victorious," he continued.
"The Lions of Cameroon will not go to the World Cup or Africa Cup of Nations or anything at the expense of our Super Eagles.
"We were not at the last two editions of the Cup of Nations and we are not happy but this third time, we will not allow that to happen and in view of that, we are appealing to the NFF to make provisions for everything that will make the players happy, get committed, go for matches, and let them win the matches.
"For us in the supporters club, you can be rest assured that we are not leaving any stone unturned in fact on that day, you are going to see some new things from the supporters club that will encourage and motivate the players to win the match."
"Our expectation is nothing other than victory, the players must give their 100 percent plus commitment because they are going to be written in the good books of Nigeria if they go ahead to win those matches for us, so they too have a responsibility and so much at stake."