KPL
Ex-AFC Leopards coach reveals reason for sack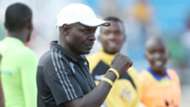 Former AFC Leopards assistant coach Tom Juma has denied allegations of falling out with coach Robert Matano that led to his sacking.
Juma's contract was terminated on December 30 after the club accused him of falling out with his boss. But Juma, who has since moved on, says the allegations are unfounded.
"There is nothing like that. I have always respected my job and there was no way I could do that," Juma told Goal.
The sacking came as blessings to Juma, who will now have enough time to concentrate with his job at Zetech University as head coach.
"I have since moved on. I have a job with Zetech (University) FC and I want to wish AFC Leopards all the very best. I have nothing against the club."
Juma has since been replaced by Hussein Ali Kheri as the new assistant coach.