Super League
Williams downplays Spaso's absence in defeat to Pahang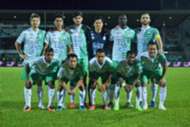 ---
BY        ZULHILMI ZAINAL       Follow on Twitter
---
Despite losing 3-1 to Pahang in the league on Saturday, Melaka United FC head coach Eric Williams has downplayed his decision not to field skipper and forward Ilija Spasojevic in the match.
Official reports have cited injury for the Macedonian's absence, however there are rumours that the 2016 Premier League topscorer had a falling out with pre-season signing Amri Yahyah recently.
When asked in an interview with the match broadcaster after the match whether the result would have turned out differently if Spasojevic had been fielded, Williams gave a somewhat vague answer.
"...it's not one individual who makes the team, we have to work as a team, as a group. Basically we had to change our formation a little bit to make up for Spaso's absence.
"Possibly he may or may not have made the difference but at the moment he doesn't really care, because now we have to go to Pulau Pinang on Wednesday," said Williams, referring to their next league match against the Panthers.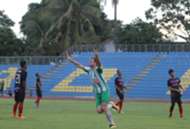 Ilija Spasojevic in 2016. Photo from Melaka United Facebook
He however blamed on the scheduled fixtures, again criticising the congested matchdays.
"I'd like to say that our team were very tired. It was a very unfair practice for us to play on Tuesday in Kota Bharu (against Kelantan), flew all the way back on Wednesday, only a session on Thursday.
"And yesterday (Friday) in our light session our players were just too tired. You could see it in their performance," lamented the former Yangon United FC boss.
He also expressed his frustration at Pahang's time-wasting tactics, when the Mousedeers were trying to get back in the game.
 
"Well it's frustrating when you can see the players were putting the pressure on the opponents, and the opponents were obviously wasting time, because it killed our momentum.
"I was very disappointed that the referee only gave five minutes (of injury time). I thought it was more about seven, possibly eight," said the Australian.
But he also credited the visitors for their performance, and said that his side were too overawed by the second-placed side.
"I am very proud of the players, we had a bad start, they scored two very good goals, our defence was a bit undermanned.
"We just left it too late in the second half, we should have played with a little bit more determination earlier, and a little bit more belief.
"I think we gave Pahang a bit too much respect. But they're a very good team with a lot of history, whereas it's our first year (back) in the league," explained Williams.
Pahang were in the driving seat from the start to the end of the match, through goals from Joseph Kalang Tie (21'), Matheus Alves (42') and Mahamadou Sumareh (57'), with the homeside's consolation goal coming in the 89th minute through Ahmad Khuzaimi Piee.