World Cup
England vs Belgium: Live blog, text commentary, line-ups, stream & TV channel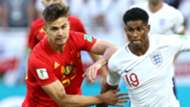 In some ways, the result is a good one for England, as it means they'll face either Switzerland or Sweden if they're able to find a way past Colombia. As for Belgium, they're set to take on Japan in the last 16 before facing the winner of Brazil v Mexico if they make it to the quarter-finals.
The referee blows his whistle for the final time and confirms England's first defeat since June 2017. It's one that means they'll finish second in Group G, setting themselves up for what should be a tough last 16 clash with Colombia next Tuesday. A largely second string side did well on a few occasions tonight, but overall they lacked the attacking fluidity needed to get the better of Belgium.
FULL-TIME: ENGLAND 0-1 BELGIUM
---
90+3 mins: England try to push forward on one final attacking move, but they're unable to do so as Pickford's long pass fails to find a team-mate. That should be that.
90+2 mins: Fellaini goes close! Another quick Belgium break results in a chance on goal, but Fellaini's strike from the left-hand side of the box smashes the side-netting after failing to trouble Pickford.
90+1 mins: Almost a second for Belgium! Batshuayi muscles his way into the right-hand side of the England penalty area before poking a pass in front of goal. An almighty scramble kicks off, and it's only brought to an end by a foul on Cahill as Fellaini tries to convert from close range.
90 mins: The fourth official has indicated that there will be three minutes of added time.
89 mins: Thumping strike by Mertens! Hazard breaks down the left wing before cutting inside and working the ball over to Tielemans. The midfielder then tees up Mertens, who unleashes a rocket of a shot that Pickford manages to push away with a diving save.
88 mins: Rose is pushed to the ground by Dendoncker deep down the left wing, presenting England with another free kick in a good position. It's taken quickly and sent to Welbeck, who immediately shoots but pokes a close-range shot well wide of the goal.
86 mins: Januzaj receives a rousing round of applause from the Belgium fans as he makes way for Mertens.
85 mins: A poor pass from Tielemans can only find a white shirt, allowing England to quickly counter-attack. Loftus-Cheek heads towards the right-hand side of the penalty area before crossing, but his chipped pass is poor and lands on the top of the net.
83 mins: Big chance for Welbeck! England keep pushing forward as they enjoy a decent spell of possession, and it results in a corner over on the left flank. The ball is fired into the box and bounces around dangerously before a great strike from Welbeck is blocked by Fellaini.
81 mins: Loftus-Cheek makes a nuisance of himself yet again before winning England a free kick in a promising position. Rashford steps up and shoots, but his thumping effort doesn't quite dip enough and clears the top of the crossbar.
79 mins: England have made an attacking alteration, with Welbeck coming on to replace Alexander-Arnold. It looks as if Rashford is going to operate as a wing-back for the remainder of the game.
78 mins: Rashford bursts down the left wing as he tries to latch onto a lofted pass from Delph. It looks as if he's managed to do so, but he's penalised for a push on Chadli just as he's about to head into the penalty area.
76 mins: A decent attack by England results in a free kick out wide. Once again it's Alexander-Arnold who crosses, but Maguire can't quite set up a team-mate after latching onto the ball at the far post.
74 mins: Belgium have made their first change of the night, with Vermaelen making way for Kompany, who comes on to make his first appearance at this World Cup.
72 mins: Fellaini is barged off the ball by Dier as he pushes down the left wing, resulting in a free kick in a decent position. It's Januzaj who curls the set piece into the penalty area, but it's overhit and easily dealt with by Dier.
70 mins: England knock the ball from one flank to the other as they try to carve out another chance on goal. Rose eventually nods the ball into the box and over to Delph, who quickly shoots but has his thumping effort well blocked.
68 mins: Rashford makes another good run through the Belgium defence as he tries to latch onto a lofted pass from Maguire, but it's slightly overhit and Courtois is there to collect the ball without too much trouble.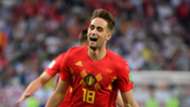 66 mins: What a chance for Rashford to equalise! All sorts of space opens up for the youngster as the Belgium defence are caught sleeping, allowing him to burst into the box. He then gets a shot away from close range but has it palmed wide of the far post by Courtois.
64 mins: Belgium haven't showed too much desire to get forward since taking the lead, and they seem relatively content to sit back and soak up the pressure being put on them. It's allowed England to have a decent amount of the ball, but they're yet to do a great deal with it.
62 mins: Another strong run from Loftus-Cheek causes problems for the Belgium back line as he heads towards the box. He then sets up Alexander-Arnold, who tries to send a cross into the penalty area but has his pass blocked before the linesman's flag is raised.
61 mins: Loftus-Cheek shows good determination once again as he charges down the right wing. He then chips a dangerous cross into the penalty area, where Courtois flaps at the ball and stops it from reaching Vardy.
59 mins: Vermaelen is eventually able to get to his feet and head over to the touchline, allowing the game to get underway once again. Belgium initially push forward with a lofted pass but end up slowing down their attacking move before patiently knocking the ball around.
57 mins: There's a brief break in play as Vermaelen gets treatment for a nasty cut on his head. He rose high with Vardy as they battled for the ball and received an almighty whack from the Leicester striker, leaving him in a heap on the floor.
55 mins: Alexander-Arnold is knocked off the ball and Belgium quickly counter-attack. Hazard breaks down the left flank, cuts inside and picks out Januzaj, who shoots but has his thumping effort blocked and deflected away from goal.
53 mins: Loftus-Cheek muscles his way up towards the Belgium penalty area before being clumsily fouled from behind by Dembele. Alexander-Arnold steps up and shoots from the free kick, but his effort on goal is poor and hits the wall.
51 mins: GOAL! Januzaj makes it 1-0 to Belgium! It's a fantastic strike from the former Manchester United man, who skips into the penalty area, cuts onto his left foot and curls a brilliant strike past the outstretched limbs of Pickford. It was Tielemans who knocked the ball up to Januzaj, but that goal was all about the latter. He perfectly placed his strike into the top corner of the net.
50 mins: It's been a decent start to the second half from England, who are showing a bit more attacking intent on the break. They were guilty of leaving spaces available in the middle during the first half, though, and they'll have to watch out that doesn't happen too much from now onwards.
48 mins: Chance for Rashford! Vardy does well to beat Dembele to a loose ball and knocks it up to Rashford. The young forward then gets a shot away, but it's slightly scuffed and fails to trouble Courtois.
46 mins: The second half is underway! England have made one substitution during the break, with Stones making way for Maguire.
---
It'll be interesting to see if any of the two teams' main players are brought on as the second half progresses. Both sides seem relatively content with how things have gone so far, but they may want to add a bit more going forward later on if things remain as they are.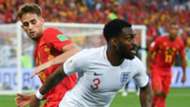 It's safe to say that wasn't the most thrilling of first-half encounters, but it's certainly been better than a lot of people were expecting. Despite plenty of changes being made, the two teams have done relatively well going forward, with Belgium arguably the better of the two teams. They'll have to do more after the break if they want to find a way in front.
HALF-TIME: ENGLAND 0-0 BELGIUM
---
45 mins: Alexander-Arnold steps up and sends in a low cross right at the end of the first half, but it fails to cause too many problems for Belgium and is easily thumped away.
44 mins: England patiently knock the ball around on the halfway line before Loftus-Cheek sends a lovely cross into the penalty area. It goes close to picking out Delph but Boyata is there to get his head on the ball ahead of the midfielder.
42 mins: Delph bursts down the left flank and gets himself into a good position before crossing. Dendoncker is there to latch onto the ball but can only head it as far as Loftus-Cheek, who could pull the trigger from the edge of the box but lets himself down with a poor first touch.
40 mins: Chadli holds up the ball over on the right wing before eventually curling in a cross. It manages to pick out Hazard, who quickly unleashes a thumping volley but sends it comfortably wide of the goal and out of play.
38 mins: The ball pinballs around the England penalty area as Belgium push forward once again. It eventually falls to Hazard on the edge of the box, but the wing-back's first-time shot is poor and sails well wide of its intended target.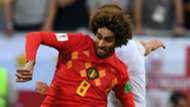 36 mins: ​Fellaini does well to receive the ball in the middle of the pitch before teeing up Januzaj, who unleashes a long-range strike that deflects behind for a corner. The set piece manages to find Boyata, but the defender can't quite nod the ball onto a team-mate.
35 mins: Decent chance for Loftus-Cheek! The cross from the corner is hit well by Alexander-Arnold and picks out Loftus-Cheek, who shrugs off his marker before sending a close-range header a yard or two wide of the near post.
34 mins: Alexander-Arnold steps up and curls a low cross-cum-shot towards the near post, but it's poorly hit and the Liverpool youngster has to settle for a corner.
33 mins: Rose is fouled by Dendoncker as he bursts down the left wing, and once again the referee reaches for his yellow card and awards England a free kick in a promising position.
31 mins: Alexander-Arnold links up well with Delph as he manages to carve out some space for himself over on the right flank. He then unleashes a cross-cum-shot that fails to find a team-mate before sailing a few yards wide of the far post. In the end, the accidental effort on goal wasn't too bad!
29 mins: Loftus-Cheek battles his way towards the penalty area and does well to out-muscle two Belgium players. He then knocks the ball back to Dier, who tries to pick out Rose with a looping pass but can only find the head of Hazard.
27 mins: Big block by Alexander-Arnold! The resulting set-piece is fired into the box and falls to Fellaini, who quickly shoots but has his low effort blocked by Alexander-Arnold at the near post.
26 mins: Belgium eventually push forward on an attack and managed to carve out a chance on goal. Batshuayi shows good movement on the edge of the penalty area and gets a shot away, but Stones is there to deflect the strike behind for a corner.
24 mins: Belgium patiently knock the ball around in the middle of the pitch as they enjoy a lengthy spell of possession. They fail to do much with it, though, and it results in some of the England fans booing them for a perceived lack of urgency.
22 mins: After a pretty good start from both teams, the pace of the game has slowed down somewhat. England seem to have a decent hold on proceedings, although Belgium are managing to find pockets of space in the middle of the pitch when breaking quickly.
20 mins: The resulting free kick is sent into a dangerous area by Alexander-Arnold before being cleared back up the pitch. Another ball is then fired into the box but Vardy has to settle for a throw in after failing to find a way past Dendoncker.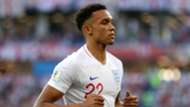 19 mins: It's taken just 19 minutes for the first yellow card to be shown, and it's gone to Tielemans. The midfielder sticks out a foot and cynically trips Rose, leaving the referee with no choice but to go to his pocket.
18 mins: Tielemans gets the better of Dier as he bursts towards the England penalty area. He then tries to pick out Batshuayi inside the box, but Stones is there to collect the ball ahead of the onrushing forward.
16 mins: Rashford and Vardy have already caused problems for the Belgium back line with their quick runs, and that looks to remain the case for the remainder of the game. England are often going long as they try to pick out the two strikers.
14 mins: Alexander-Arnold does well down the right wing once again before sending an excellent volleyed cross into the middle of the box, where it finds Vardy. The striker manages to get his head on the ball but can only send it well wide of the far post.
13 mins: The second corner is curled over to the far post and manages to pick out Cahill. The defender does well to rise high and nod an effort just wide of goal, but he's quickly penalised for a push and Belgium are awarded a free kick.
12 mins: Alexander-Arnold makes a nuisance of himself deep down the right flank and wins England a corner. It's sent in deep and bounces out to Rashford, who shoots from 30 yards out but has his effort deflected behind for another corner.
10 mins: Off the line! A chipped cross causes all sorts of problems for Pickford, who isn't quite able to collect the ball inside the six-yard box. The ball somehow comes free and falls to Batshuayi, who pokes it towards goal but is denied by a last-ditch clearance from Cahill.
8 mins: Vermaelen pushes down the left wing and as Belgium embark on another quick attacking move, but the defender's pass into the England penalty area is poorly hit and easily dealt with by Pickford.
6 mins: Great strike by Tielemans! Dier is dispossessed by Fellaini and Belgium are able to push forward on their first attacking move of the game. The ball is worked over to Tielemans, who unleashes a thumping shot from 30 yards out that Pickford does well to save.
4 mins: Delph picks up the ball in a promising position before threading a pass through to Rashford, but Dendoncker is there to knock the ball out of play. The linesman then eventually raises his flag for an offside during the build-up.
2 mins: Almost an early chance for England! A poor pass fails to find Vermaelen and rolls to Vardy, who then fizzes a pass across the face of goal. It goes close to finding Rashford but Courtois is there to save it with his feet.
1 min: We're underway!
---
5 MINS TILL KO: The teams are out on the pitch and the anthems are underway, kick-off is just moments away!
10 mins till KO: Gareth Southgate has decided to make eight changes to the England side that started the comfortable thrashing of Panama, with only Pickford, Stones and Loftus-Cheek retaining their places in a heavily altered line-up. Alexander-Arnold, Dier, Delph, Rashford and Vardy will all be making their first starts in a World Cup game.
Meanwhile, Belgium head coach Roberto Martinez has made nine alterations to the team that lined up against Tunisia, with Courtois and Boyata the only players not to be rested. The likes of Vertonghen, De Bruyne and Hazard are on the bench, with Lukaku unlikely to feature due to injury.
15 mins till KO: Here's a reminder of the teams news for both teams tonight...
England XI (3-5-2): Jordan Pickford; Phil Jones, John Stones, Gary Cahill; Trent Alexander-Arnold, Ruben Loftus-Cheek, Eric Dier, Fabian Delph, Danny Rose; Marcus Rashford, Jamie Vardy.
England substitutes: Kyle Walker, Harry Maguire, Jesse Lingard, Jordan Henderson, Harry Kane, Raheem Sterling, Kieran Trippier, Jack Butland, Danny Welbeck, Ashley Young, Dele Alli, Nick Pope.
Belgium XI (3-4-2-1): Thibaut Courtois; Leander Dendoncker, Dedryk Boyata, Thomas Vermaelen; Nacer Chadli, Marouane Fellaini, Mousa Dembele, Adnan Januzaj; Youri Tielemans, Thorgan Hazard; Michy Batshuayi.
Belgium substitutes: Toby Alderweireld, Vincent Kompany, Jan Vertonghen, Axel Witsel, Kevin De Bruyne, Romelu Lukaku, Eden Hazard, Yannick Carrasco, Simon Mignolet, Koen Casteels, Dries Mertens, Thomas Meunier.
20 mins till KO: The runners-up, meanwhile, will instead face either Switzerland or Sweden in the quarter-finals if they're able to get past Colombia. Unsurprisingly, with their places in the last 16 already confirmed and topping the group not being the biggest of concerns, both head coaches have decided to rest several of their star players for tonight's game.
Currently, it's England who lead the way, despite the two teams being tied on points, goal difference and goals scored. The Three Lions have accumulated one fewer card than Belgium, and, if this evening's clash ends in a draw, that would be enough to see them progress as Group G's winners.
If England do go on to win tonight, it would be the first time since 1982 they've managed to win all three group stage games. It would also see them improve their already impressive goal tally. With eight to their name, they've already leveled the amount scored in both 1954 and 1990. The only time they've ever scored more was in 1966, and we all know what happened then…
25 mins till KO: As for the second place side, they face what should be a tricky clash against Colombia, but much of the pre-match discussion has been concerned with a runners-up finish theoretically offering an easier route to the final. Finishing second certainly does seem more advantageous, as whoever does so will avoid potential games against the likes of Brazil, France and Argentina.
30 mins till KO: Thanks to back-to-back victories, both England and Belgium head into tonight's game with their places in the last 16 already secured. But it remains to be seen who will top the group, with whoever does go on to win it already knowing they'll take on Japan on Monday evening.
45 mins till KO: Hello and welcome to Goal's live blog of the Group G clash between England and Belgium at the 2018 Russia World Cup.
---
Squads & Team News
---
Confirmed England XI: Pickford; Jones, Stones, Cahill; Alexander-Arnold, Dier, Delph, Loftus-Cheek, Rose; Rashford, Vardy
England subs: Alli, Pope, Kane, Henderson, Lingard, Sterling, Butland, Young, Walker, Trippier, Welbeck, Maguire
Potential Belgium XI: Courtois; Dendoncker, Boyata, Vermaelen; Chadli, Fellaini, Dembele, Januzaj; T Hazard, Tielemans; Batshuayi
Belgium subs: Mignolet, Kompany, De Bruyne, Witsel, Carrasco, Vertonghen, Hazard, Mertens, Casteels, Lukaku, Alderweireld, Meunier
---
TV Channel, Live Stream & How To Watch
---
In the United States (US), the game can be watched live and on-demand with fuboTV (7-day free trial).
New users can sign up for a free seven-day trial of the live sports streaming service, which can be accessed via iOS, Android, Chromecast, Amazon Fire TV, Roku and Apple TV as well as on a web browser.
In the United Kingdom (UK), the game can be watched live on TV on ITV or streamed live online using the ITV Player.
| UK TV channel | Online stream |
| --- | --- |
| ITV | ITV player |