UEFA Champions League
Eight goals, 10 yellows, Falcao & Aguero magic - City & Monaco show why we love football!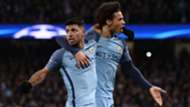 ---
COMMENT
---
Pep Guardiola chucked his coat to the ground. A water bottle quickly followed after. He paced around his technical area, rubbing his face and scratching his head. The team against which his Manchester City played would not be tamed; they would not be quelled.
They would not submit to the imposition of his will. He had just seen Monaco score their first goal – scored by the irrepressible Radamel Falcao. He would score a better one before the night was out.
Not for the first time Pep's team had been cut through; pierced by high-precision arrows in red and white. Monaco are at once Pep Guardiola's dream team and his worst nightmare. Where Guardiola seeks control, Monaco brought chaos.
"When two teams want to attack like that then sometimes football is nice and beautiful," Guardiola said. "I know there's a lot of pressure on us but it's a game and people enjoyed it. The people in the stands were so grateful and that is the best present we can have."
Monaco overtake Barca as Europe's top scorers
This was the most entertaining game of this season's Champions League. City won it not by trying to take the sting out of it but through bloody-minded brutality. At 3-2 down they looked down and out. Willy Caballero and John Stones had been abysmal. But something happened. Monaco were sapped of their energy and their poise, and City grew in strength.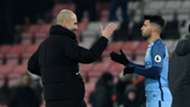 They fought back, chased harder, scored from set pieces. Monaco's composure deserted them, betrayed their status as a work in progress. Yes they are Europe's top scorers but they need to be when conceding goals like this.
It was not a victory that relied on traditional Guardiola qualities; there were corners delivered into the Monaco area like bombs. They were overwhelmed, savaged, and left vulnerable to beautiful goals.
And where Stones and Caballero had been liabilities they were instead solid late on. Stones got the go-ahead goal at 4-3 and Cabellero denied Radamel Falcao his hat-trick.
Ronaldo poses with his Bugatti
We knew Monaco had many ways to inflict damage. We knew that because they are top of the French Ligue 1 table, ahead of Paris St-Germain who were 1/10 to win the title before the season that started. We knew that because they have scored more goals than any other team in Europe's top five leagues. We knew that because half their squad is being linked with massive money moves to clubs all across Europe.
Bernardo Silva – chief among the jewels jealously eyed by the continent's elite ran the show for his side with his footwork, speed of thought, his control of the ball and his surroundings.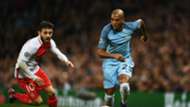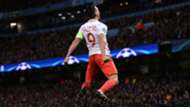 It is not hard to see why golden boy Kylian Mbappe is being likened to Thierry Henry. He glides across the grass like Henry with those long legs of his. He tortures defenders with his pace and directness. He is possessed of cold blood in the area.
When Monaco's goals came there was a ruthless simplicity about them; a simplicity that played on City's long-standing inability to shut the gate. Caballero's needless cough-up of possession allowed Fabinho to cross expertly for Radamel Falcao. Mbappe's run between Stones and Otamendi is not the type of run that should be bamboozling Champions League defensive partnerships.
Stones was taken to school by Falcao for the third in one of the goals of the season as the Colombian audaciously chipped Caballero. He would have had a hat-trick but for a missed penalty. All in all this game had everything; eight goals, 10 yellows, controversial refereeing, comical defending.
Zidane reveals Ronaldo's favourite position
City – to their credit – hung with Monaco every step of the way and then knocked them over. Sergio Aguero was menacing; proving himself all over again in the absence of Gabriel Jesus.
He earned the "Sergio, Sergio" chant from his fans and an attempted high-five from his coach not necessarily for the two goals but for tracking back and gobbling up possession in his own half.
Sometimes it's hard to make sense of football; sometimes you don't need to and just enjoy it.
That's what we were given tonight – football to enjoy. In a competition where too many games are high on instruction and low on improvisation, it was refreshing to see natural thrill seekers like Bernardo and Leroy Sané strut their stuff.
"Normally you say you want 100 per cent on the pitch," said Jardim. "Today was maybe 150 per cent and there was so much going on. It was so fast. The score changed so quickly. It was a great game."
There are glaring deficiencies in both teams but that's hardly the point. City demonstrated a fighting-spirit to batter Monaco into submission. Yet two goals as a lead is not likely to be a secure enough result to see them through with no problems.
"We'll fly to Monaco to score as many goals as possible and that's my target," Guardiola said. "We have to go there to score goals. If we don't score then we will be eliminated."
And goals there will be in Monte Carlo.