Simba
Djuma confident of away win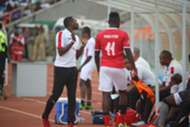 After a 3 hours journey from Dar es Salaam to Djibout Simba squad is ready for their second leg of Caf Confederation Cup match against Gendarmerie.
The clash will be held on the 20th February in Djibouti and Simba will enter the pitch with confidence after their last weekend's 4-0 home win Dar es Salaam.
Speaking to Goal Simba Assistant Coach Masoud Djuma said that everything is going well and they are ready for the game 
"We are here since Yesterday night, the weather is good and our players are in good condition. We have received a great welcome from our hosts Gendarmerie. Our plan is to win this match and qualify for the next round," said Djuma.
The Burundian coach said in that they aim to play with the same way energy they did in the first match and by a big margin as they did at home.
Simba will miss the services of their Burundian striker Laudit Mavugo who remained in Dar es Salaam due to a knee injury
If the Msimbazi outfit qualify for the next stage, will face the winner between Zambia's Green Buffalo and Egypt's Al Masry.