Premier League
Denis Irwin: Michael Carrick has had a phenomenal Manchester United career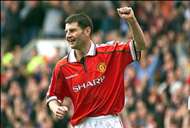 ---

BY MANASI PATHAK   

 Follow Manasi Pathak on Twitter 
---
Manchester United legend Denis Irwin was present in Mumbai for a fan-gathering event in the financial capital of the country. In an exclusive chat with Goal, 1999 treble winner discussed the defensive display of Manchester United this season, shared his views on the exorbitant transfer fees these days, predicted the impact of Alexis Sanchez arrival and revealed what it takes to be a modern day full-back.
Excerpts:
Q: What has been your assessment of Manchester United's defensive performance this season?
DI: It's been good; we were the second-best defensive outfit last year and are probably the same this year. We are very strong defensively. The criticism was thrown at us last year that we weren't scoring a lot of goals but we scored a lot of goals this year. We are in much better position. The goalkeeper (David De Gea) is magnificent; he's the best goalkeeper in the world. Centre-halves are unfortunately keeping down with the injuries- (Eric) Bailly is injured at the moment; (Marcos) Rojo had a crucial injury for quite a while. (Victor) Lindelof has come in but taken time to settle; Phil Jones and Chris Smalling been fantastic - it's been a good competition there.
So I believe the manager would like to settle too. (Nemanja) Matic, as a holding player, too has been a great signing for us. I don't think we got a problem defensively.

Q: What do you make of Luke Shaw's last couple of seasons under Jose Mourinho and do you believe he is starting to finally prove a point?
DI: I hope so. He came in as a very talented 19-year-old. He had a great start to his career at Southampton and had a bad set-back with the injury later. It's taken a while to get over that and he's carried niggles after that as well. So, he needs a run of games to get him up and running. He stepped up lately and you could see his confidence is drawing and he's done very well. There's a lot of talk Luke (Shaw) moving on but he is 22 and hopefully, he can get better and better.
Q: What do you make of Victor Lindelof's displays?
DI: He came in from the Portuguese league which is totally different from the pace, strength and power of the Premier League. The manager said during pre-season that it will take him (Victor Lindelof) a bit to settle down. But even when he has played in the last couple of months, he's looked good. He's very young and he has got competition from (Marcos Rojo), Phil Jones and Chris Smalling and Eric Bailly. But I'm sure he will be a great signing for us as time goes on.
Q: Michael Carrick is believed to retire at the end of the season and join the coaching staff. A word on his career?
DI: It's been phenomenal. He's been fantastic; he's got his head down and got on with it. He probably played under the radar when he played with Scholesy (Paul Scholes). It's absolutely fantastic that the club can retain Michael Carrick and bring him under (Jose) Mourinho's wing. It will be a huge learning curve.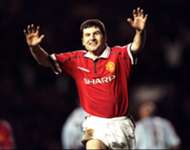 Q: Could Alexis Sanchez make a similar impact like Eric Cantona?
DI: I hope he does. He's an experienced player; he's been around the Premier League with Arsenal for few years. January isn't an ideal time to sign players, particularly if they aren't used to the Premier League but he is, so if he does, he will hopefully hit the ground running. He's a player who scores a goal every two days; he has got great energy. He's very direct in attacking and I feel he's a player who will fit in our pack.
Q: You were regarded by Sir Alex Ferguson as one of the best signings under him. In your opinion, who do you think has been the best signing so far under Jose Mourinho?
DI: Since he (Jose Mourinho) has come in, (Zlatan) Ibrahimovic was unbelievable for us last year; (Paul) Pogba has been getting better and better. He was under pressure last year but I feel he's performing better this year. We haven't seen much of (Victor) Lindelof so far; (Eric) Bailly has been a great signing. But I would think (Nemanja) Matic has been a real top signing for us; we needed a holding player like him for years. It is because of him that (Paul) Pogba has been encouraged to go forward. (Nemanja) Matic has been a big signing for us.
Q: During the transfer window, Manchester United are often criticised for overpaying deals. However, when other clubs do the same, one does not witness the same reaction. What is your take on this?
DI: I think it is part and parcel of football. Transfer fees have suddenly gone up. When you think we signed Paul Pogba for 89 million about 17 months ago, since then Neymar has gone for over 190 million and now (Philippe) Coutinho has gone for about 140 million; big players are in demand, it is as simple as that. But transfer fees are big, at the moment.
Q: A lot of the teams have started playing with three at the back in the Premier League after Antonio Conte's arrival. Do you think that formation cuts the role of traditional full-backs and instead auxiliary wing-backs find space in the starting XI?
DI: Yes when you do play three at the back, it allows your wing-backs to go forward as much as possible. It's become a trend to play three at the back. Also, when you play four at the back, because there is a holding midfielder either way now, the current role as a full-back is almost like a winger. You have to be comfortable on the ball and be able to attack to be a modern day full-back.