Manchester City
De Bruyne's derby target in recovery from knee injury supported by Martinez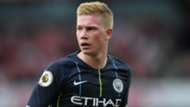 Kevin De Bruyne is planning to return from injury ahead of the Manchester Derby, and Roberto Martinez expects the City star to be back on the pitch "a lot earlier than other players would".
The Belgium international damaged knee ligaments during a training session in mid-August.
It was initially suggested that he would be sidelined for at least three months, with it unlikely that he would be seen again until late November.
City were, however, hopeful that the 27-year-old could be returned to their plans much earlier than that, with De Bruyne having since stated his desire to face United at the Etihad Stadium on November 11.
His international manager appears to think that is a realistic target, with Martinez telling reporters at the FIFA Football Conference in London: "It was a freak accident, it happens, football is a contact sport.
"The issue is how long he will be out and the reports are very positive.
"I think we'll see him on the pitch a lot earlier than other players would take with that injury [and] we think he could be even fresher after his period away.
"No time scale yet but Kevin wants to be on the football pitch as quick as he can and physically he's got that natural gift of being able to heal quicker than other players."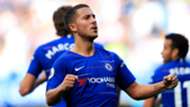 While talking up De Bruyne's recovery from injury, Martinez has also discussed the current efforts of another Belgian star.
Eden Hazard has carried his World Cup form into the 2018-19 campaign with Chelsea, with his club manager Maurizio Sarri considering him to the be the best player in Europe.
Martinez believes the 27-year-old forward is putting himself in that company, with it possible that he could come into contention for FIFA Best and Ballon d'Or prizes at some stage in the future.
"Individual awards are difficult to put a real meaning on them because they're very subjective," said the Red Devils coach.
"Everyone will have their own view but when you see an attacking player with that level of consistency - I think he's been involved in 26 goals in 26 games for the national team - this is world-class. And that is for a player who is always highlighted by the opposition.
"I've seen Eden Hazard at a sensational level at the World Cup and I've seen that carry on with Chelsea this season."