World Cup
Danny Jordaan: South Africa will support Morocco's 2026 World Cup bid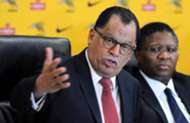 South African Football Association (Safa) president Danny Jordaan has promised that South Africa will give its unwavering support to help Morocco secure the 2026 Fifa World Cup.
Morocco is vying against Canada, Mexico and the USA to become only the second African side to stage the world's biggest football competition after South Africa in 2010.
Jordaan, in the presence of the Moroccan delegation which comprised of ex-Senegal and Liverpool attacker, El Hadji Diouf and former Cameroon goalkeeper, Joseph-Antoine Bell, said it would be great for Africa to have a second bite at the World Cup cherry, adding that Morocco's bid was Africa's bid.
"It is an old myth that Africa doesn't have the capacity and naysayers should stop using the political argument. Africa hosted the best Fifa World Cup ever and with good support, Morocco can emulate South Africa," said the Safa president.
Jordaan assured Morocco that he will personally lobby for Cosafa and the rest of the continent to rally behind the North African country's bid.
SA will support Morocco's 2026 FIFA WC bid, Jordaan. Full details here: https://t.co/zHkQbRE70g @CAF_Online @COSAFAMEDIA @FIFAcom pic.twitter.com/vtfimSQ2ZP

— SAFA.net (@SAFA_net) April 16, 2018
Former Indomitable Lions international Antoine Bell also said in his remarks that Morocco had all the ingredients necessary for hosting the World Cup, adding that by giving Morocco its support South Africa's voice would make all the difference on the continent.
"South Africa showed the way and I am confident Morocco will follow suit. The country has international standards; from the stadiums to top infrastructure. Morocco can compete with the best in the world," he said.
"When South Africa talks on the continent, the rest of the continent listens hence it is vital for South Africa to support Morocco. South Africa has the experience and Morocco will use this experience to win the 2026 bid," added Bell.