U20 Women's World Cup
Danjuma: Why Nigeria crashed out of U20 Women's World Cup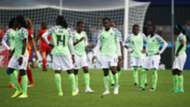 Nigeria U20 women's coach Christopher Danjuma has blamed his side's poor start for the quarter-final loss against Spain in Concarneau on Thursday.
The Falconets started on a back foot in their pursuit of a semi-final place, with Patricia Guijarro and Aiana Bonmati's goals handing the Europeans a first-half advantage at the Stade Guy-Piriou.
However, Peace Efih's 57th minute strike was not enough to help the west Africans escape defeat and the gaffer has lamented his girls' poor composure and confidence.
"It was a tough game, especially when you were not planning to be two goals down at half time," Danjuma told media.
"So, the next thing is to try and level up in order to find a favourable result at the end of the day but unfortunately it was not meant to be.
"In a game of football, it takes the players to get settled early enough to impress themselves on the game but we started being a little bit jittery to get ourselves a bit composed.
"We were hoping, even after the first goal that no other goal will be conceded before the end of the first half. I think we were not calm when we started."
The Nasarawa Amazons handler further disclosed that African sides struggle at the World Cup against their counterparts, especially from Europe owing to their poor quality of preparations.
"There was no strong point. It was the pressure of the game - a player should be able to get to a point that they have been given instruction and can implement it," he continued.
"We just couldn't settle in early enough in the first half and not because we couldn't find the Spanish team to get over."