Dani Alves
Dani Alves reveals he almost signed for Mourinho & explains Man City snub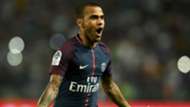 PSG defender Dani Alves has revealed just how close he was to signing for Jose Mourinho at Chelsea and explained why he turned down a move to Manchester City.
The Brazil international was still a Sevilla player when he agreed to move to Stamford Bridge in the summer of 2007.
However, the move did not go through and Alves stayed in Seville for another season before joining Barcelona in July 2008.
Now Alves has offered an insight into what caused the deal to collapse, insisting it was not his fault and that he was looking forward to working under Mourinho at Stamford Bridge.
"I didn't go to Chelsea because of the club, not because of me," he told Sky Sports.
"I thought it was done, that I was going there to work with him. I don't know if he got different information, that I didn't want to go or whatever, because since then our relationship hasn't been so good, but it wasn't my fault. I was convinced that I was going to work with him and form part of his team."
Alves' subsequent move to Barcelona saw him link up with Pep Guardiola, whose appointment as head coach sparked a glittering period of success for the Catalan club.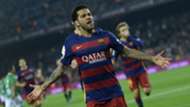 The defender won 14 major trophies under Guardiola at Camp Nou and is full of praise for the impact the current Manchester City boss has had on his career.
"Guardiola improved me a lot as a footballer," added Alves. "He taught me a lot of things and that's why in every interview I'm asked I always say the same thing: He is the best manager that I have worked with.
"He is a genius at key moments. He knows how to let his players know exactly what they should be doing. On many occasions, he was a manager who won us matches. We just had to follow his instructions."
After eight trophy-laden seasons with Barcelona, Alves moved to Juventus in 2016, winning the Serie A title and Coppa Italia in his first year in Turin.
But, despite having a year left on his deal, Juve agreed to terminate his contract early the following summer amid reports of a move to Manchester City.
As Goal reported in July 2017, Alves had agreed a deal to move to the Etihad Stadium and a reunion with his former boss Guardiola. However, after being allowed to go on holiday, Alves stunned City officials by deciding to sign for PSG instead.
The 35-year-old has now revealed the reasons behind his dramatic U-turn, which reportedly left Guardiola livid.
"It was all done to go to Manchester City but it didn't happen because of a family decision," he said. "Pep knew my intentions. I spoke with him, he knew my intention to work with him and his staff again. He knows the gigantic respect I have for them, which is why I wanted to work with him again until something else came up.
"In life you have to weigh everything up, even when they are just decisions about your career. I like my decisions to be taken carefully, so they don't harm anyone close to me, so that the people close to me are happy.
"I know that if the people close to me are happy, I am happy, and I can do my job better. For me, it was a shame not to work with Guardiola again because he knows I adore him, but at the same time it was a new challenge which is what changed my mind."
Alves helped PSG claim a domestic treble last season before suffering a knee injury in May that caused him to miss the World Cup.
He has just one year left on his contract in the French capital and, at 35, knows he is approaching the end of his career.
But, when asked whether he regrets not playing in England, Alves hinted there might still be another chapter in his already illustrious career.
"No, no I don't regret it… and anyway my career is not over yet," he said. "English football is a type of football which excites me a lot."