Chelsea
Courtois a 'great goalkeeper' despite Barca errors, says Alonso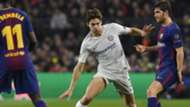 Marcos Alonso has defended Thibaut Courtois after the goalkeeper's errors proved costly in Chelsea's elimination at the hands of Barcelona in their Champions League last-16 tie. 
Chelsea were level at 1-1 going into the match at the Camp Nou but after two minutes and eight seconds, a mistake from Courtois saw Lionel Messi score from a tight angle through the legs of the Belgium international. 
Barcelona went on to score twice more as they won 4-1 on aggregate, with Messi adding a second goal that once again went through Courtois' legs. The goalkeeper admitted his mistake in a television interview after the match, but Alonso believes that his team-mate is still a great goalkeeper. 
"I think he is just unlucky. If it happened again 10 times, for sure he doesn't score," Alonso said. "Thibaut is a great goalkeeper and I think it is just an unlucky action. Even in conceding these goals, if we had scored the chance we had [we might have gotten back into the tie]. We had plenty of chances."
Alonso bemoaned Chelsea's luck throughout the two legs, but noted that if the club want a chance to do better next year, they will have to play well over their last stretch of the Premier League season to ensure a place in next year's competition.  
"We hit the post twice in the first leg and twice again today. It is also very unlucky. It is what it is but we have to keep fighting for these last eight games because I think we deserve to play again in this competition next year.
"We conceded too much for the first two goals. It was too easy for a team like Barcelona, but we had so many chances. I think we showed great character in both games. Today and in the first leg. I think the score is too much but it is fair because they put the ball in and we didn't.
"There have been a lot of positives in the two legs against Barcelona and we have to show the same desire in the next games and make sure that we win every game. You saw until the last minutes today that we can play against any team and now we have eight finals. We have to make sure we play in the Champions League next year." 
Chelsea are now battling with Liverpool and Tottenham for a top-four place, while their next match sees them face Leicester City in the quarter-final of the FA Cup at the King Power Stadium. 
Alonso believes that if Chelsea play like they did against Barcelona in the season's remaining games, that not only will the team qualify for the Champions League but they could also win the FA Cup. 
"That's difficult no? It is the only trophy we have left," he added. "At the minute, we can only fight for this after the defeat today. Next season will be another season but definitely FA Cup and top four is what we have to go for.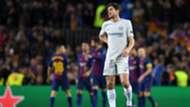 "If we play every game like we did against Barcelona [we would be in the top four], but that's not the case. That's another thing that we have to take into consideration and learn from this defeat and get stronger. It is difficult, we have had so many games this year.
"We have not got as big of a squad maybe. I don't know, we can only look forward, to try and fight for a spot in the Champions League and win the FA Cup."