Bundesliga
Courteous visitors: Hamburg's embarrassing away record against Bayern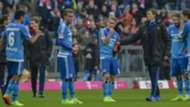 It's probably a bad sign when an 8-0 defeat in football becomes routine.
Yet, one can argue that's exactly what has happened to Hamburg, who were dispatched by that scoreline Saturday against Bayern Munich, with Robert Lewandowski picking up the hat-trick and Kingsley Coman adding a brace.
Ancelotti hails goaless Muller as Bayern's best
How common is that 8-0 result for Hamburg against the Bundesliga champions? It's actually the exact same score Bayern inflicted on them on Feb. 14, 2015.
Incredibly, that's not even the most goals Hamburg have conceded in recent times at the Allianz Arena. In 2013, Bayern scored nine times – though Hamburg did net twice to keep the margin of defeat to just seven goals.
Hamburg have been beaten in each of their last seven trips to the Allianz Arena by a combined score of 44-3. They haven't managed to secure a result there against Bayern since 2008, when they snatched a 2-2 draw.
It's probably safe to say Hamburg won't be looking forward to their 2017-18 trip to the Allianz Arena — if there is one for the relegation-threatened side.