UEFA Champions League
Could you control your passion for the UEFA Champions League? Real and Atletico fans take the Heartbeat challenge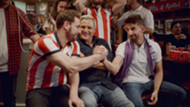 Emotions in football can be impossible to control.
Could you keep it together during a UEFA Champions League semi-final against your most fierce rivals?
Mastercard selected two of the most passionate fans and challenged them to keep their heart rates below 80bpm in last week's UEFA Champions League semi-finals.
If they could keep their cool, the lucky duo would win tickets to the second leg of this epic final-four clash.
It took just six minutes for the for Atletico Madrid fan Jose Arqueros' heart rate to fly up to 120bpm, and a few minutes later Real supporter Rodrigo Perez hit 135bpm as Cristiano Ronaldo headed his side into an early lead.
So, to help them out we invited an expert on keeping calm, as former UEFA Champions League finalist Sanitago Canizares offered some relaxing advice.
But even a former Spain international can't work miracles. 
It's impossible not to live out the passion of the UEFA Champions League so for their admirable ef-forts, Mastercard invited both to the second leg anyway.
Just how far would you go for your team? MasterCard want all UEFA Champions League fans to join the debate on social using the #MadnessOrPriceless hashtag!