African All Stars
Copa Coca-Cola National Finals Day Three Review: Abuja, Osun, Katsina, Imo progress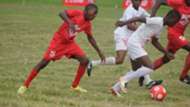 Yobe vs. Osun
Progress Comprehensive High School, Osun kicked off  the day three actions of the national finals by trouncing Government Junior Secondary School, Yobe 5-0 to book a spot in the next stage of the competition.
Three first half goals from Olabisi Michael, Enoch Emmnauel and Oderanti Faith gave Osun a deserved lead ahead of an unsettled Government Junior Secondary School, Yobe.
Enoch Emmanuel completed his brace few minutes after the restart of the game before Adedeji Damilare compounded the woes of the hapless Yobe representatives who were reduced to 10 men after Salisu Garba was given marching orders.
Kano vs. Rivers
Government Junior Secondary School, Kano showed their supremacy over Community Secondary School, Rivers with a 3-2 win but could not seal a place in the next round.
Saifullahi Ibrahim gave the Kano representatives an early lead to make a statement but was short lived by Okechukwu Felix's eqauliser before half-time as both sides struggled for their first win.
Wakama Joseph's individual's brilliance handed Rivers the lead with a powerful shot but captain Saifullahi Ibrahim showed class to put his side back into the game with his brace before Auwalu Abdullahi sealed the party for the Kano representatives.
Abuja vs. Kwara
Unarguably the fiercely contested game of the day, as Fosla Academy, Abuja displayed their doggedness to outsmart Muslim Secondary School, Kwara, with a 1-0 win and lead the group A standings.
Habib Kazeem's brilliantly placed free-kick was the only difference in the game as the Gilbert Igwe's men progress to the next round of the competition.
Fosla Academy's Moses Aluko stood out as the hero of the day with top notch saves to ensure that the Ibadan regionals champions did not get an equalizer.
Muslim Secondary School forward Omodara Temitope was kept at bay as the Kwara representatives struggled to get a vital equalizer that could have been an advantage for them.
Katsina vs. Imo
In what seems like a cagey encounter, Government Junior Secondary School, Katsina settled for a goalless draw with Owerri City College, Imo as both teams progress to the next round.
It was a battle of individual skills and tactics but both teams couldn't not find the back of the net before the end of regular time.
Katsina and Imo the lead group B standings with 5 points each and same goal difference but Katsina progress to the next round of the competition as group B leaders after rolling of a dice at the end of the games.