African All Stars
Copa Coca-Cola is the real deal for Nigeria football – Soji Omoigui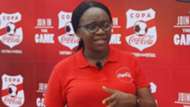 Coca-Cola Brand Manager, Soji Omoigui has revealed the importance of Copa Coca-Cola championship and its impact on Nigeria football.
The annual grassroots tourney has discovered icons like Leicester City's Wilfred Ndidi and Liverpool's Taiwo Awoniyi. While Brazil soccer great, Ronaldinho featured in the South American edition as a teen.
In a no holds barred interview with Goal, the brand executive explained why Coca-Cola is investing in the sport and how this year's national finals will unfold.
''Our company's strategy is to contribute to the growth of grassroots football in Nigeria. Choosing football specifically is because the sport is one of the major passion found in teenagers,'' Omoigui told Goal.
''Teenagers are the leaders of tomorrow so by getting them to engage in Copa Coca-Cola; teaching them values such as leadership, discipline, respect for others, collaboration and teamwork helps to shape them. It helps to grow their person.
''Playing football also improves their general health and wellbeing so those are the reasons why the company has decided to invest in and create the Copa Coca-Cola tournament.
''As a company, Copa Coca-Cola is a competition that we play all over the world. So it's not just in Nigeria it is being played across many countries all over the world. Over a million players have been engaged since the beginning of Copa Coca-Cola.''
Copa Coca-Cola is Back! Bigger and Better-37 States, 5,000 Schools, 110,000 players, N22m worth of scholarships! Ready? #CopaCocaColaNG pic.twitter.com/u4bdO05rIT

— Coca-Cola Nigeria (@CocaCola_NG) May 9, 2017
''In Nigeria, this year we are engaging 110,000 students that will be part of Copa Coca-Cola; that's an increase from last year. Last year, it was 60,000 students. This year, we are increasing our reach from 32 states to 36 states. We have increased the number of schools that are registered to be part of the tournament from 3,000 schools to 5,000 schools,'' she continued.
''What we are also doing this year is that at the state final stages the school that comes first at each of the state's' final will get for their school a football pitch makeover. So in every single state, we are leaving behind a football pitch makeover for the school that comes first then the students proceed to the regionals where they will be engaged with Nigeria ex-internationals who will have coaching clinics with them. This is exposing the students to world class football trainings.
''So our dedication to contributing to grassroots football stems from the fact that teens are the leaders of tomorrow and we imbibe in them, through football which is a passion, leadership skills that takes them further in life because this skills are not only applied to football but they are also applied to every other aspect of their lives. And that is why we keep coming back year after year to invest in Copa Coca-Cola.''
Nigeria football legends Mutiu Adepoju and Victor Agali are here for the #CopaCocaColaNG Lagos final pic.twitter.com/hGmIl3h2GI

— Goal.com Nigeria (@GoalcomNigeria) May 9, 2017
This year, the competition has been divided into three stages, the grassroots, group and final stage. At the grassroots stage, interested schools in each of the 37 states will compete for a chance to represent their states at the group stage/regional stage.
During the Group stage, each region will be divided into groups from which a winner will emerge from the tournament sequential structure for the next round. The final stage is the National Finals, which would be hosted in Lagos, with the grand finale played also in Lagos.
There is also the coaching clinic sessions where participants will be mentored and tutored by legendary ex-international football stars.