Antonio Conte
Conte: Clowns? Mourinho was probably talking about himself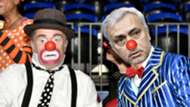 Chelsea manager Antonio Conte has reminded Manchester United rival Jose Mourinho that he too has a tendency to act like a "clown on the touchline".
The Red Devils boss recently accused a number of his fellow Premier League coaches of behaving "like a crazy guy" in the heat of battle.
It was suggested that the Portuguese's comments were aimed in the direction of Conte and Jurgen Klopp – with the Chelsea and Liverpool duo famed for their animated approach.
Mourinho, though, has a colourful history of his own when it comes to technical area theatrics, and he has been urged to look at himself before passing judgement on others.
Conte told reporters at a pre-match press conference on Friday when quizzed on the accusations levelled at him from Old Trafford: "I think maybe he [Mourinho] was talking about himself in the past.
"Sometimes people can forget what they did in the past."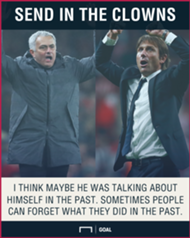 Some 24 hours before Conte took the stage at Cobham, Mourinho had responded to questions regarding an apparent lack of passion with a sly dig at his rivals .
He said: "Because I don't behave as a clown on the touchline, it means that I've lost my passion?
"I prefer to behave the way I'm doing it. Much more mature, better for my team, better for myself.
"I don't think you have to behave like a crazy guy on the touchline to have that passion.
"That passion you see it every day, the way a person is dedicated to his work, not what you do in front of the cameras."
The antics of Conte and Mourinho can be expected to fall under the microscope once again this weekend when they lead their respective sides into FA Cup third round action against Championship opposition.
United are set to play host to Derby County on Friday, while Chelsea head to Norwich City on Saturday.