Mamelodi Sundowns
COMMENT: Why Mamelodi Sundowns must allow Percy Tau to leave for Europe
South Africa Chief Editor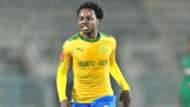 Too many times, South African players have been criticized for not being hungry enough to get out of their comfort zone and seek greener pastures abroad, but when they show little hunger, PSL teams turn to have a problem with it.
While it's too early to predict what is going to happen in the ongoing debacle between Percy Tau and Mamelodi Sundowns, it is becoming increasingly frustrating to see the player having to beg his employers and boycott a pre-season training camp in order to try and force a move away from the club. 
Tau, through his agent Mmatsatsi Sefalafala, accused Sundowns of playing hard ball and dragging their feet in sorting out his future despite sitting with a lucrative offer from English Premier League side Brighton & Hove Albion.
According to Tau's agent, the English side is offering £2,5 million which is well over R44 million, but Sundowns are demanding £4 million, which is slightly over R71 million for the South Africa international. 
Sundowns have since confirmed that they have the offer in front of them, and insisted that they are doing all they can to make the move happen, but is it because Tau's camp went public about it that they're claiming to be helping him realise his dream?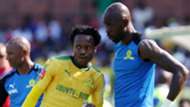 In all honesty, this issue shouldn't have escalated to this level, especially after a gentleman's agreement was reached between the two parties way before Brighton & Hove Albion showed interest that Sundowns would allow him to leave at the end of the season should there be offers from Europe. 
According to Tau's camp, the left-footed player should have moved to Russia in January, but Sundowns dragged their feet until the mid-season transfer window closed, which made it impossible for the speedy attacker to join FC Rostov. 
Pitso Mosimane usually say certain players aren't ready to move to Europe. He said the same thing about Bongani Zungu, yet today, the entire country is proud of the talented midfielder from Nigel as he continues to fly the South African flag high in the French Ligue 1. 
Keagan Dolly had to fight and involve the PSL DRC to be granted the move to Montpellier, while Zungu left for free because Sundowns delayed his move to Portuguese side Vitoria Guimaraes. 
A few years ago, Katlego Mphela saw his dream of a possible return to Europe go up in the smoke when Sundowns rejected an offer believed to be in the region of R12 million from Partizan Belgrade.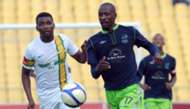 Russian outfit Terek Grozny also had their R15 million bid for the services of the man known as 'Killer' rejected by the Tshwane giants. Since then Mphela has never been the same player, even after his move to Kaizer Chiefs in January 2013. 
Siyanda Xulu and Siboniso Gaxa were also subjected to the same treatement by the same club less than a decade ago, but like Dolly, the duo stood their ground and demanded to be released until Sundowns accepted offers from FC Rostov and Lierse SK respectively. 
One would have thought Sundowns learnt from these past experiences, because it honestly makes a mockery of South African football, especially when European teams show interest in our players.
It is important to note that Sundowns are within their rights to reject offers from teams interested in any of their stars simply because they have binding contracts with them, but denying them the opportunity to grow as footballers isn't the way to go. 
They could also say that they're deserve every cent in the Tau deal, but the boy has paid his dues by helping them win trophies, including the Caf Champions League, Caf Super Cup and PSL titles among others since his return from Witbank Spurs.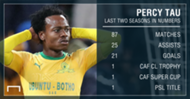 At 24, Tau has the chance to be a better player elsewhere, and Sundowns shouldn't be demanding transfer fees that would make it impossible for him to move abroad. 
Tau moving abroad won't just benefit his career and his pocket, but it would benefit the South African national team as well, especially now that Bafana Bafana have been struggling to qualify for major tournaments due to what many believe is their lack of producing quality players and exposing them to bigger leagues in Europe. 
If Sundowns feel that Tau is not ready to play in Europe then they should just come out and say it, like they used to with other players, and not stand between him and achieving his dreams.
But then again, that would be the most selfish thing a club can do to a player they claim to admire, because players should be supported and be allowed to make their own mistakes or create their own luck.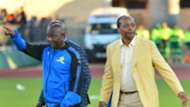 If a player like Thulani Serero managed to move against all odds, then Tau should also be allowed to try his luck abroad, more so because Brighton & Hove Albion want to buy him unlike in the past where PSL players would be invited for trials by European clubs and end up not securing any deal. 
This is an opportunity of a lifetime for Tau, and Sundowns have the obligation to make it happen, and avoid being in the media for the wrong reasons. They proved to the entire world that they are one of the best teams in South Africa in recent years, and this shouldn't only apply on the pitch, but also in the boardroom where decisions are made. 
Holding on to Tau for another season would only kill the player's confidence and dreams, and he may never perform the way he did over the past two campaigns to catch the eye of European clubs again.
In the end, he would be just like many players who underperformed and opted to stay in the PSL after their employers denied them the chance to move beyond the country's borders.