Clint Dempsey delivers that something special USMNT needed to reach Gold Cup final
ARLINGTON, Texas — The big screen at AT&T Stadium is gigantic and beautiful, showing the kind of clear image you expect from a high-end home television, not a screen the size of a two-family house. The image on that clear screen flashed Clint Dempsey's image as he prepared to enter Saturday's CONCACAF Gold Cup semifinal and the crowd instantly erupted in cheers. In the pressbox, a Costa Rica journalist could be heard gasping "Nooo."
What that journalist knew is what all American fans know — that if the U.S. Gold Cup team was going to do something special to break down and beat the stingy Costa Rican defense, it was going to be Dempsey to do it.
Sure enough, the Texas native, who was born and raised 180 miles away in Nacogdoches, stepped on the field and while he wasn't wearing a hero's cape, he played like he had one on. He set up a golden chance for Kellyn Acosta shortly after entering. Then, just six minutes after entering, Dempsey delivered a beautiful assist to Jozy Altidore to open the scoring.
He capped his heroics in perfect fashion, standing confidently over a free kick from 25 yards out before striking a perfect attempt past Costa Rican goalkeeper Patrick Pemberton to seal the victory and also tie Landon Donovan for most career USMNT goals with 57.
Don't mess with Texas!@clint_dempsey nets his historic 57th international goal as the #USMNT defeats #CRC, 2-0.https://t.co/6Q0JQ3c2rn — U.S. Soccer (@ussoccer) July 23, 2017
"It's bigger than me man. It was something that was already written it seems like," said Dempsey, who provided tickets for 27 friends and family members. "I couldn't have pictured a better scenario, coming off the bench and getting a goal and assist, and helping the team get to the final. That's a dream come true."
The timing of Dempsey's historic night was also fitting, coming almost exactly a year after a heart condition was discovered that sidelined him for the rest of 2016. A condition that wound up requiring a pair of heart surgeries to repair an abnormality. The heart condition kept him out of action as the Seattle Sounders went on to win an MLS Cup title, and threatened to end his career.
"It means a lot, especially after a few heart procedures, being able to be back on the pitch and play at this level and be competitive," Dempsey said. "That feels great."
The U.S. national team didn't play badly before Dempsey arrived, but the Americans were sorely lacking the final play, or a special play to break down Costa Rica's five-man defense. In some ways, the first half was the best half the U.S. played all Gold Cup, but only a Jordan Morris shot off the right post just seconds into the match counted as a truly dangerous chance for the Americans in the first half.
The good and bad from USA's win
Costa Rica seemed intent to let the U.S. knock the ball around, staying organized after some nervy early moments, and it was Bryan Ruiz who looked to be the star more likely to do something special, running through the U.S. defense on a few occasions.
The U.S. looked more aggressive in the second half, and Dempsey's arrival seemed to send a jolt of energy through the U.S. team, as American players began making more runs into the attacking third, knowing Dempsey could deliver the killer pass, if not score a goal of his own.
"You know Clint, he's a special player," Altidore said. "He's able to produce special moments. We knew coming into the game he would come in at some point and provide us a lift, and he did just that."
Before Dempsey arrived, it was Tim Howard who had kept the U.S. from having its party spoiled by the Ticos, twice saving dangerous shots by Marco Urena to keep the match tied as the U.S. struggled to break through.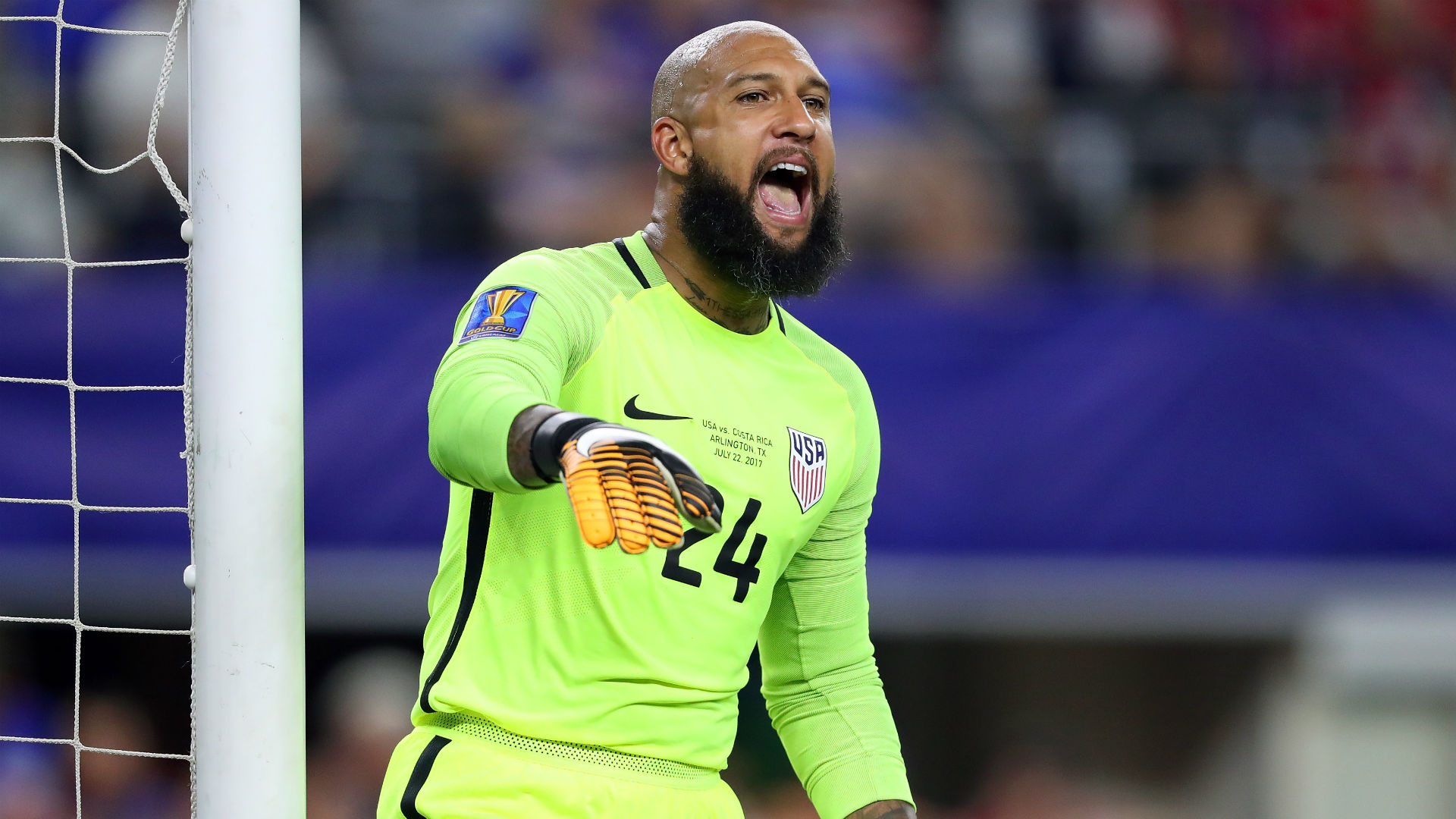 Luckily for the Americans, injuries had decimated Costa Rica's wing options, leaving the Ticos with lackluster wide players who offered little threat. That made it easier for the U.S. defense to cope with a Cosa Rica team that relied largely on the occasional run by Ruiz and long balls to Urena. That made the job easier for the U.S. defense, which looked much more confident as coach Bruce Arena turned to veteran defenders to settle down the back line after some shaky displays earlier in the tournament.
The U.S. attack started out excellently, with Morris rattling the right post just seconds after kickoff. That flash of promise suggested the Americans were ready to play much better than they did on Wednesday against El Salvador, and that's what we saw. The U.S. controlled possession, and made few mistakes, but lacked the final play, and the magic play that could win a game.
That seemed to make Arena's decision to leave Dempsey out of the starting lineup a questionable one, though it made plenty of sense. Dempsey had just played 90 minutes on Wednesday against El Salvador, and Arena figured correctly that the U.S. would be better off having Morris test the Costa Rican defense with his speed, and wear down the Ticos before Dempsey could come on as a second-half substitute.
"That's what Bruce said. He thought it was going to be a tight game, where he could bring me on late and I could open up," Dempsey said. "It was always going to be a little bit difficult trying to go 90 three days after going 90 at 34. I was happy with the decision, and glad I could come on and make an impact."
Match report: Costa Rica 0-2 USA
That move proved perfect, as Dempsey entered the match in the 66th minute in a game where his creativity and vision could wreak havoc on a Costa Rican side that had been tested physically by Morris and Altidore. Once Dempsey entered, it sparked his teammates to make runs and go at the Costa Rican defense in a way the U.S. struggled to before he arrived.
"(Dempsey) does what he does. He tries (stuff)," Altidore said. "That beautiful turn, he got away from another guy, and then an incredibly-weighted ball.
"You can tell everybody's happy for (Dempsey)," Altidore said. "He's been working so hard. To be some part of that journey, some small piece of it, means a lot to me."
The U.S. now heads to Santa Clara, California, for the Gold Cup final against the winner of Sunday's Mexico-Jamaica semifinal. Dempsey will head into the tournament looking to win the third Gold Cup title of his career, and potentially breaking the USMNT career goals record. After his performance on Saturday, it's easy to see him following up his semifinal heroics with an other memorable chapter in the final.
"Trust me, there's one more goal for him, he knows the job's not done yet for him yet," Altidore said. "Everyone will be pushing for him to get the record."
He may be 34, and his career may be winding down, but Dempsey showed on Saturday that he can still deliver magic in the biggest of moments, giving his teammates a player they can count on, and his opponents someone to fear.