Opinion
Liga MX must protect players, Chivas producing and more we learned from Liga MX Round 9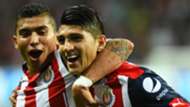 It wasn't a great weekend for Liga MX. Between injuries, more spurts of fan violence and a few snoozers of games, there certainly were better weeks.
Still, there was plenty to glean from the week as we crossed over the halfway point in the Clausura, meaning we're now closer to the playoffs than to the start of the season.
Let's take a look at the lessons we learned from the ninth round of Liga MX — plus a gorgeous strike in our Goal of the Week and a coach rocking out in Whimsy Watch.
---
LIGA MX MUST PROTECT PLAYERS
---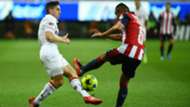 This weekend saw two Mexico national team members take vicious tackles that put their status for this month's qualification matches against Costa Rica and Trinidad and Tobago in serious doubt.
Pachuca star Hirving Lozano left the field on a stretcher after Tijuana defender Michael Orozco came down hard on his lower ankle in the first half of Pachuca's win over Xolos (more on that in point two), and a day later Rubens Sambueza put Chivas winger Isaac Brizuela out of action for more than a month with a similar tackle.
Sambueza 'plancha' a Brizuela y recibe la tarjeta roja. pic.twitter.com/FuZND05yFq

— Univision Deportes (@UnivisionSports) March 5, 2017
Lozano is used to taking plenty of abuse. Teams know they can't stop the talented left winger from coming inside in a legal way, so they resort to extra-legal means. Last tournament, he suffered 160 fouls in a dozen matches and was leading the league with 37 heading into the weekend.
So it can't be much of a surprise that he ended up looking like this at some point:
Y así las cosas con la lesión de mi Chucky pic.twitter.com/3F5xnbPkw7

— Club Pachuca (@Tuzos) March 4, 2017
One of the things that makes Liga MX so fun to watch is the dynamic abilities of players like Lozano and Brizuela. Orozco, who somehow got off with a yellow card in real time, likely will be handed down a suspension from the disciplinary committee (though who knows after last week's decisions), while Sambueza will be out at least a week after his red card. Club America, which lost winger Renato Ibarra for more than a month because of a fracture suffered Saturday after a hard tackle from Andres Andrade, has asked the committee to look at that incident.
Pachuca coach Diego Alonso was calm after Friday's game, saying Pachuca wasn't the type of team that was going to ask for Orozco to get a long ban or miss as much time, as "El Chucky" will be out injured. He also didn't hold referee Cesar Arturo Ramos accountable for the injury.
"Ramos is a great person," Alonso said. "If he made a mistake, it's not because he's biased and he doesn't deserve for us to talk badly about him tonight."
He wasn't as diplomatic after a match in November of last year. "If they don't protect him, he's going to get injured," Alonso said after Lozano's right knee was injured.
The league's officials, who are reliably inconsistent, need to manage games better and stop these problems before they start. There's no reason for Lozano to have taken as many fouls as he did last tournament. The 21-year-old fortunately didn't suffer anything long term and should be able to bounce back to rejoin both Tuzos and the national team. Brizuela also avoided serious injury. 
This isn't a call for superstars getting special treatment like they do in some leagues. This is a call for referees to put a stop to dangerous play, before we see more creative players sidelined — potentially for longer than the four or five weeks we'll miss these players for.
---
PACHUCA CAN WIN WITHOUT LOZANO
---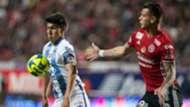 Most teams would crumble after losing their best attacking player, but Pachuca had plenty of options to replace Hirving Lozano after the star winger left injured (see above).
Pachuca manager Diego Alonso shifted No. 10 Jonathan Urretaviscaya to the left side that Lozano had occupied and brought on 18-year-old Roberto Alvarado. The Uruguayan was influential, starting this move that Alvarado finished off for an equalizer.
He then assisted the second and scored the third on his own. Pachuca is a tough team to defend against, even when it isn't able to call upon Lozano. Erick Gutierrez's passing in the middle gives Tuzos' attack an extra dimension, while Franco Jara is in excellent form — giving the team someone else who can score goals. The top weapon, though, is Urretaviscaya, who not only can create but also is lethal on set pieces.
That's all backed up by a defense that may get its due with less of the focus on Lozano and the attack. Omar Gonzalez and Oscar Murillo are one of the legue's best center-back pairings, and 44-year-old goalkeeper Oscar Perez still rarely makes an error in the box.
"Pachuca was a lot better than us in the second half," said Tijuana manager Miguel Herrera, whose team saw midfielder Joe Corona sent off in the 77th minute with the score 3-1. "They took advantage of the man advantage and lapses of concentration that we had."
The 3-2 victory over Tijuana despite losing Lozano was no fluke. They'd rather have "El Chucky" on this field, but don't be surprised if the team is still in the top three when the 21-year-old returns to full fitness.
---
NICOLAS CASTILLO THE BEST WINTER ADDITION
---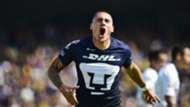 Nicolas Castillo scored two goals to help Pumas to a 2-1 victory over Santos Laguna, the visitors' first defeat of the season. The double takes the Chilean, who joined Pumas from Universidad Catolica, to six goals on the year. That puts him above Dorlan Pabon for first place in the Liga MX Golden Boot race.
WATCH: First goal in Atlanta United history
The forward has drawn plenty of attention from media outlets around the country and abroad, with Medio Tiempo branding him "Zlatan Castillo" and Record electing for "Crackstillo," playing on "crack," a term for someone who does things with excellence.
There's no doubt he was excellent Sunday. After a first half in which Santos was able to deny him the ball, he had his chances in the second half. He showed off his touch on his first goal, killing a ball from Pablo Barrera and scoring from a difficult angle.
On the second, he showed off his movement, passing to Javier Cortes to start the play, then getting into the box while Santos worried about stopping the players on the ball. He darted forward to finish a low cross from Barrera and had his second.
Castillo was the best acquisition made in Liga MX, and it might not be particularly close. His first trip to Europe didn't work out well, as he struggled to find time with Brugge, but Castillo will be headed back soon if he keeps this form up.
---
CHIVAS LEAD LEAGUE BUT MUST PAST STIFFER TESTS
---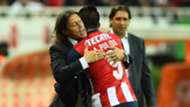 Chivas top the table for the first time since April 2015, and the first time since Matias Almeyda took over as coach. The club has been impressive this season. After Almeyda built the back for much of last season, this campaign he's been able to watch the attack blossom. Angel Zaldivar is enjoying his conversion to a winger and a bit of depth on the wing has developed among Zaldivar, Isaac Brizuela and Javier "La Chofis" Lopez, with Rodolfo Pizarro bringing everything together.
Up top, Alan Pulido, who scored both goals in Chivas' 2-0 win over Toluca, has been superb and will be an asset for Juan Carlos Osorio's national team this summer, whether he goes to the Confederations Cup or Gold Cup. 
While Chivas were impressive this weekend, it came against a Toluca side that ended the game with nine men after Rubens Sambueza and Gabriel Hauche were sent off (what Red Devils coach Hernan Cristante does next week on the wings will be interesting). Last week's collapse in Chiapas, when Chivas blew a 2-0 lead and lost 4-3, still lingers in the memory.
"I'm happy for everyone, but also there's the reality that we still haven't gotten anything yet. We're doing well, we've worked for this and that work is bearing fruit that we always wanted to pick, but we're in the middle of the tournament, we're all together," Almeyda said. "The other day we were sad because we lost the game, but we've played in a similar way in all the games and this shows that we're doing well. Still, we're aware that there's still a lot going forward."
The Argentine's manner is a wise one to pass onto his team. Things have been good so far, but Chivas are by no means in the driver's seat yet.
---
CRUZ AZUL CAN WIN A GAME
---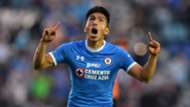 Cruz Azul and Chiapas played out a bizarre game Saturday in which it seemed like everyone's intention and deepest desire was not to put the ball in the back of the net, only for those ruled to be suspended for two minutes while Cruz Azul scored two lovely goals — and then the regulation be put back into place. Some of that was down to Chiapas goalkeeper Moises Munoz, who made a penalty save, and his Cruz Azul counterpart Jesus Corona.
The deadlock finally was broken by Angel Mena, a left-footed player who scored a stunner with his right foot to help lift Cruz Azul to a 2-0 victory and snap a seven-match winless skid.
Joao Rojas scored in the next minute, looping in a shot from the right side of the box that probably was intended as a cross.
"We've scored the most difficult chances," Cruz Azul coach Paco Jemez said. "We're strange."
The team now has nine points in nine matches, and while a win over Chiapas might not have meant much last season when Jaguares were the worst team in the league, this year the team has occasionally been hard to dispatch.
While Jemez said that he's happy for his players more than for himself, the manager now has a bit of breathing room but still has plenty of work to do if he's going to get La Maquina back into the Liguilla.
---
GOAL OF THE WEEK
---
Edwin Cardona, Monterrey
Rayados extended their lengthy unbeaten streak at home and dampened some of the enthusiasm about Queretaro's resurgence, beating the Gallos Blancos, 4-1. Colombian midfielder Edwin Cardona hit this quality volley from a corner kick to open the scoring, and it wins our prize this round.
---
WEEKLY WHIMSY
---
Perhaps it's no surprise that Pumas manager Paco Palencia, who kept his hair long and painted his nails when he was a player, is a huge metalhead. He celebrated Pumas' win Sunday over Santos by taking in Metallica's show in Mexico City.