Mexico
Chivas forward Alan Pulido injury to keep him out more than four months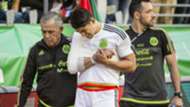 Alan Pulido's broken arm suffered in a friendly won't require surgery, but will keep the Chivas forward out of action for more than four months, the club announced late Monday.
Pulido took an awkward fall in Mexico's win Saturday over Paraguay, and the Chivas medical staff has determined he fractured the third distal in his right humerus, essentially meaning a bone in his upper arm near the elbow is broken.
"Alan will have his arm immobilized for around six weeks and in the seventh he could start to have movement," team doctor Alberto Robles said. "It's estimated there will be a total of 18 weeks for his integration back onto the field with normal activity."
Pulido injury a blow for El Tri
While the player isn't pleased he'll be missing the next four months, including the start of the Apertura which begins for the Guadalajara side on July 22, he was relieved to avoid going under the knife.
"I thought it was going to require surgery, but they took X-Rays and the doctors told me that the best thing is not to turn to surgery," Pulido told Chivas' official site. "It makes me happy because it doesn't change the (recovery) time and this also was important."
Erick "Cubo" Torres will replace Pulido on the Mexico Gold Cup roster, while Chivas coach Matias Almeyda may need to rely on Carlos Fierro to find his scoring form at the start of the season if Chivas are going to defend their Liga MX title.