Chippa United
Chippa United coach Dan Malesela tired of finishing in the top eight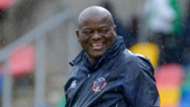 Chippa United coach Dan Malesela says he is tired of playing for a top eight spot in the Premier Soccer League.
The Chilli Boys' mentor was speaking amid their preparations for the new PSL season, saying he wants to challenge for a trophy in the upcoming term.
Making his return for a second stint in Port Elizabeth, the former Orlando Pirates skipper wants to transform the Eastern Cape-based side into a title winning side.
He revealed that during his time away from the game that he watched his former club Mamelodi Sundowns doing everything to lift the PSL trophy last season.
Having already signed the likes of Gift Motupa from Pirates and Thabo Nthethe form the Brazilians among others, Malesela wants to fight harder with the side.
Following his sacking just before the Christmas break, United roped in Teboho Moloi who was later replaced by Vladislav Heric, and Malesela said he also learned a thing or two from the likes of Manchester City in the English Premier League.
The Citizens were crowned champions in the EPL and Malesela will now challenge for the Telkom Knockout Cup, Nedbank Cup and the league title.
"It is very important because sometimes you get to refresh your mind and your body, but it mustn't be too long," he told Phakaaathi.
"During my time away I have been watching a lot of local teams and some international teams. I have watched Mamelodi Sundowns, Manchester City, Barcelona and other great teams around the world to see how they get things right and these are teams that win the league," said the coach.
"If we take from that and get those things right it will help the team a lot and will improve us," he continued.
"One of the things that needs to change is that Chippa finish in the top eight and sometimes outside of the top eight," continued the coach.
"I am tired of that sequence. We need to set goals for ourselves and say we are a club playing in the PSL and where do we go from here?," he explained.
"Outside the PSL and play in another league? No. Do you want to play and stay in the league for years with nothing to show? We need to have some silverware that we can be proud of. We are in a situation where we say we are tired of fighting for the top eight only. Let's stay in the top eight and see if we can maybe fight for a better position," he concluded.