KPL
Chemelil Sugar players cry out for help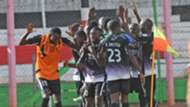 Chemelil Sugar players are crying out for help after several months of suffering owing to accrued salaries, Goal has learnt.
Goal has authoritatively gathered that Chemelil Sugar players are owed up to seven months in arrears after Kenyan Premier League (KPL) allegedly 'failed' to remit monthly disbursement to the club in time.
Goal is equally informed that the club has two-way payment format where each player is entitled Sh16,500 paid by the sponsor, Chemelil Sugar Company with the rest, to be negotiated according to the player, coming from the monthly grant from the league runners, which is not forthcoming according to Chemelil Sugar players who spoke to Goal.
For the last seven months, Chemelil Sugar players had to depend on the KPL grant as the only source of income after the company temporarily close early in the year due to Sugar shortage, a duration within which the company was not in a position to pay the salaries.
But even the KPL's monthly remittance which is in the region of Sh300,000 paid to each club has not been forthcoming, forcing players to live from hand to mouth.
The dire situation is now threatening the very core of the club with players said to have vowed never to step foot on the pitch until their allowances are cleared.
"We have not been paid full salary for the last seven months. Life is getting harder by the day. The highest amount we've been paid ever since is Sh6000, sometimes they give us Sh3000, which is not even enough to pay the rent and some of us have families to take care of," a source within the club told Goal.
"The club usually asks for an advance from KPL to pay players, but right now the company is making money. There is Sugarcane yet we've not received the money."
Though the players who spoke to Goal confirm that their main aim is to remain in the top flight league next year, a majority of them, however, insists that the fight will be hard if the situation is not remedied.
"We don't want to be relegated but sometimes it's not easy to step into the pitch in empty stomach and expect to have a good game," added another player.
 Chemelil financial trouble began way back in June where players boycotted training for two weeks due to unpaid allowances.