Transfers
Chelsea should move for Arsenal star Wilshere – Wise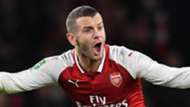 Arsenal's Jack Wilshere would represent an excellent signing for Chelsea this summer, according to former Blues midfielder Dennis Wise. 
The England international has had a career beset by injury problems and finds himself out of contract at the Emirates as of June.
With contract talks having apparently moved nowhere in recent months, Wise, a former tough-tackling midfielder at Stamford Bridge, thinks the 26-year-old would be an ideal partner for N'Golo Kante.
"If Chelsea needed a midfield player I would definitely take Jack Wilshere," he told Sky Sports.
"He's free, he's 26 years old and he's proved he's come back to full fitness. You see the money they've paid for Danny Drinkwater and Tiemoue Bakayoko and I think he's better than them.
"At 23, what would you have paid for him? £40 million? Would I play him in the Chelsea team now? Yes, I would.
"I'd sit him alongside N'Golo Kante and I'd play him.
"I'm sure Arsenal fans wouldn't like me saying this, but he's for nothing if he's walking away. Go and have a go at him. Go and take him."
Despite repeated physical problems, which have restricted Wilshere to only 19 Premier League appearances this season, Wise remains unmoved.
"His injury record is what it is. Someone could get injured tomorrow, so that doesn't matter. He has proved he has come back to get away from these injuries," he said.
"How long do you stick that enigma on him? He has proved himself over the last year what he's capable of. He's got himself back to playing top football.
"Everyone was writing him off 18 months ago, but he has shut them all up.
"His timing is spot on. His agent must think they are in a really comfortable position."