Chelsea
Chelsea out to attack Arsenal in 'special' Carabao Cup semi-final, says Hazard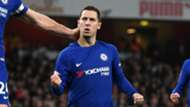 Eden Hazard showed some of his best form in Chelsea's 4-0 win against Brighton at the weekend and hopes that his side can use that as a confidence boost to bring the game to Arsenal on Wednesday in the Carabao Cup.
The Blues go into the semi-final clash having drawn the opening match 0-0 at Stamford Bridge two weeks earlier.
But Hazard, who bagged a brilliant brace on Saturday, hopes that the London derby can entertain as it did in the exciting 2-2 Premier League clash at the start of the month and thinks that Chelsea will attack their opponents better than they did in the first leg.
"It's a semi-final. We will go there to win, for sure," Hazard said. "If we are thinking about setting up defensively against Arsenal then that's a bad thing, because we need to score goals. We will see what the team is like - maybe the manager can change some players.
"We need to find ways to create problems for them. We will go there to win the game, create chances, because if we don't create chances we can't score. It's that simple. 
"Yes, maybe [it will be exciting like the league match], but we will see. We will go there to win the game because we want to win trophies at the end of the season, and the [Carabao] Cup is a good trophy. 
"Big games are special because you know everyone is watching. It's a semi-final and our fans want Chelsea in finals, so they will be watching the game.
"The Emirates Stadium is good with a lot of fans. It's the kind of night you want to shine in."