Transfers
Chelsea leader Hazard must be stopped from joining Real Madrid, says Cole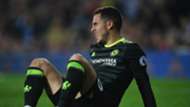 ---
EXCLUSIVE
---
Joe Cole is praying that Eden Hazard's latest injury prevents him from joining Real Madrid this summer as he doesn't believe the Premier League champions would be able to replace him.
Hazard is recovering after undergoing surgery on his ankle that he injured in a training session with Belgium after the 2016-17 season ended and could miss several games at the start of the new campaign.
Ronaldo & Messi: Children of Football
Cole thinks that Hazard is the best player in the league and, while his injury is a blow for his former side, he is glad that it could hinder Zinedine Zidane's attempts to sign him. 
"He is fantastic. He is one of the top players in the world," Cole told Goal at the Tampa Museum of Art. "It is a shame he got this injury with Belgium but with the speculation that was coming, on a selfish point of view for Chelsea, it might mean that we can keep hold of him for another year [with Real Madrid interested]. 
"For me, he is the best player at the club. I think he is the best player in the league. I can't speak highly enough of him. He would be very expensive to replace. I don't know where you could go to replace him. Eden is a leader in the dressing room. 
"He is also very well liked in the dressing room. People around the club like him and he appears to have settled very well. He is an established player and it is very important that the club keeps hold of him."
Cole and Hazard lined up alongside each other in the 2011-12 season as Liverpool sent their attacking midfielder on loan to Ligue 1's Lille and that it was evident from day one what a magnificent player the Belgian was.
Bayern shut down Lewandowski exit talk
"When I went to speak to coach Rudi Garcia about playing at Lille he said "'ok we have got Dimitri Payet, who is a very, very good player and we have got Eden Hazard, who is a special player. We have got this formation and here's where we are playing you, Hazard and Payet.' 
"I had heard about him [a bit], he was linked with clubs already when I signed. On my debut, he scored two goals and I saw that he was special player. He was like a hero there, he came through the system. I knew straight away. 
"Players are the best judge and when you play with someone and see him day-in, day-out I knew he was a special player. I was asked about him [by Chelsea]. Obviously, I gave him a glowing endorsement, I remember talking about it.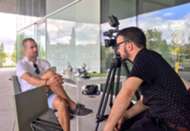 "I remember he also had a choice of many clubs to go to. I said Chelsea was the right place for him [while I was at Lille]. It was a transitional time [for Chelsea], plus living in London is big for foreign players, particularly the lads from Belgium, with the train going to Belgium. 
"When you are a young lad, with a young family as well, I think it was the right fit for him. If he stays at Chelsea, I think he will go on to be the greatest player in the club's history. I stand by that."
Chelsea ready £100m Juventus raid
Hazard was criticised for his attitude as a younger player, which some saw as overconfident, but Cole disagrees with that assessment and believes that his swagger is part of his invaluable strength. 
"He was good and he was confident. In England, he would have been told [to rein in] his attitude, you know. For me, I think his attitude was spot on. He wasn't running around tracking players and making tackles. Things like that. He would take the ball in any situation.
"He was a brave kid and he is a brave player now. I liked his attitude. He had swagger. I had no doubts about his attitude, I would have had more concerns with a nervous kid, who is a bit nervous. He did it his own way. He had the ability and he knew it.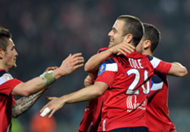 "He is a nice person as well. If you speak to him, you see he is a good guy. I think my French was better than his English back then but his English has come on.
"He didn't have to train to his maximum every day because come Saturday, he knew he would be the matchwinner. I would love to manage a player like him [one day]."