Chapecoense
Chapecoense return to pitch for emotional first match against Palmeiras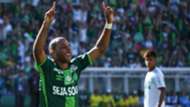 Chapecoense returned to the pitch on Saturday night for an emotional friendly against Palmeiras which saw them lift the Copa Sudamericana trophy before kick-off.
The match at their home stadium, Arena Conda, was the first they have played since the plane crash that killed 71 people, including 19 of their players, on November 28.
Man City's best is just not good enough
The three surviving players, Neto, Jakson Follmann and Alan Ruschel, were in attendance and presented with the Sudamericana silverware in front of a capacity crowd.
"It's a little complicated for me as I'm still at the hospital," Follmann, who has had a leg amputated, said. "It's a great emotion to be here, this is where we used to play and train, and now there's a beautiful tribute like this.

"There's no holding back the tears. I'm happy and recovering well. There's no explanation for this feeling - we must respect God's will and move on with our lives now. We're certainly stronger, and learning to value the simple things after all that happened."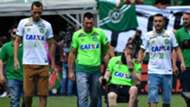 The Sudamericana was awarded to Chapecoense after the crash, which occured while the team was en route to the first leg of the final of the competition against Atletico Nacional of Colombia.
Atletico Nacional had requested that their opponents been crowned champions in the aftermath of the tragedy and subsequently received the Fair Play Award at the recent FIFA Football Awards.
"It's a unique feeling - all we can do is thank eveyone for their prayers," Ruschel said. "There's a big challenge ahead of us, so let's try to honour the ones we lost last year the best way possible."
Of his own health, he added: "I'm thinking about a return to the pitch, yes. Doctors have given me six months to fully recover, and I'm focused on that."
A tribute to the players, coaches, journalists, crewmembers and other guests who lost their lives in the tragedy followed before the game itself got underway.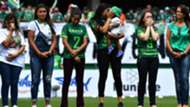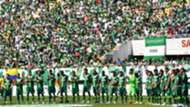 Chapecoense, who have mostly loaned players in order to be able to compete during the 2017 season, fell behind in the 11th minute to Raphael Veiga's goal.
They showed superb spirit to roar back, however, and Douglas Grolli, a loanee from Cruzeiro, scored a goal he will never forget to level the score just three minutes later.
GOOOOOOOOOOOOOOOOOOOOOOOOOOOOOOOOOOOOOOOOOOOOOOOOOOOOOOOOOOOOOOOOOOOOOOOOOOOOOOOOOLLLLLLLLLLL DA CHAAAAAAAAAPEEEEEE!! GROLLI!!!!

— Chapecoense (@ChapecoenseReal) January 21, 2017
It looked as if Chape may secure a historic victory when Amaral, playing against his parent club, gave them the lead shortly after half-time.
Madrid need Ronaldo to match Ramos
But Palmeiras, the reigning Brazilian champions, struck back with 12 minutes to go through Vitinho and the match ended in a 2-2 draw.
"A fair score for the Friendship Game," Chapecoense posted on Twitter after the match. "Thank you for the affection of all those who supported Chape! Thank you very much!"