UEFA Champions League
2018-19 UEFA Champions League Squad of the Season: Midfielders - Moussa Sissoko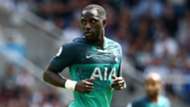 Moussa Sissoko is featured as we move on to the midfielders in the UEFA Champions League Team of the 2018-19 Season.
Mere numbers can't define the Frenchman's influence on the game and he remained an underrated star in the Tottenham side that came tantalisingly close to securing their first-ever Champions League title.
Attackers have goals and assists statistics up for comparison but a player of his profile dictates the game in non-tangible ways. He formed a solid partnership with Harry Winks at the centre of midfield and played a crucial role in Spurs winning the midfield battles in most of their games.
However, the path to glory was not a bed of roses for Sissoko. Two years after a defeat to Portugal in the final of the 2016 Euros, the then 29-year-old did not make the French team that eventually won the World Cup.
A dejected Sissoko returned to the Spurs side to continue playing alongside club captain and World Cup winner Hugo Lloris. This is when the midfielder's redemption arc began. He started working on his technique, positioning, tackling and general awareness before finally establishing himself as a starter for Spurs.
The France international was especially important in the semifinal first leg when he replaced Jan Vertonghen against Ajax. His influence on the game was noticeable, with the hosts enjoying more balance in the midfield after his introduction.
Sissoko's physical presence was crucial in Tottenham stifling Ajax's fluid playmaking from the centre of the park and ultimately limiting Ajax's advantage to just a goal. Spurs would then pull off a great comeback in the second leg, with Sissoko playing the entirety of the match.
Despite his efforts, Spurs could not win the title as Liverpool edged them in the final. But there is no taking away from the fact that Sissoko had a huge influence in Spurs' run to the final.