UEFA Champions League
2018-19 UEFA Champions League Squad of the Season: Defenders - Jan Vertonghen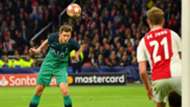 Jan Vertonghen was one of the unsung heroes of Tottenham's incredible Champions League campaign in which they finished runners-up. He formed a solid duo with Toby Alderweireld in a four-man defence and performed admirably when used on the left side of a three-man defence.
The Belgian centre-back had one of his best-ever tournaments, peaking right during the onset of the knockout stages. With just 1.2 tackles per 90 minutes – compared to 2.3 from last season – Vertonghen displayed a mature sense of positioning and rarely put the wrong foot forward.
After some positive shows in the Group stages, the 32-year-old peaked during the last-16 ties against a fiery Borussia Dortmund that had built a reputation as one of the strongest attacks in Europe.
Marco Reus had kept injuries from affecting his chances of participation in the crunch tie and had developed very good chemistry with teenage sensation Jadon Sancho.
The German side conceded three goals in the first leg with Vertonghen also getting onto the score-sheet. However, the tie was far from over, given Dortmund were then a dangerous side at home.
Lucien Favre's men started the second leg on the front foot and came close to scoring frequently. While Spurs' midfield fell asleep, Vertonghen made it his onus to protect the sticks against the dangerous Dortmund front-line.
He also produced a tremendous last-man tackle on Reus very early on the first half and prevented the hosts from drawing early blood and gaining the psychological advantage. The Belgian built on the great start and produced a gutsy show to play a key role in ensuring that Spurs' Champions League campaign was still alive.
The North Londoners could not get their hands on the trophy but they reached further in the tournament than anyone would have expected them to, with Vertonghen playing a crucial role at the back.
He makes the 2018-19 UEFA Champions League Squad of the Season.