UEFA Champions League
2018-19 UEFA Champions League Squad of the Season: Midfielders - Hakim Ziyech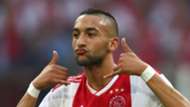 If performing in a crunch fixture was an art, Hakim Ziyech mastered it during the UEFA Champions League last season. He scored and created three goals each, with five of the six goal-involvements arriving in the knockout stages.
Ziyech is a player who brings to the game a lot more than mere numbers. He links up well, possesses a wide passing range and switches play from the flanks seamlessly with a diagonal ball across the park.
The Moroccan winger is also a great dribbler and has shown great composure in the tightest of spaces. All his abilities were on display in the knockout stages of the Champions League last season.
Ziyech played a key role in Ajax embarrassing holders Real Madrid in their own den. He scored his team's lone goal at home and opened the scoring at the Santiago Bernabeu before the floodgates opened. While Dusan Tadic delivered a 10/10 performance, the 26-year-old acted as an able supporting cast and created several opportunities for his team.
The Dutch side then faced Juventus, with Ziyech performing admirably in the first leg. He could not get his name on the score-sheet but was his team's biggest threat, testing the opposition custodian Wojciech Szczesny frequently in the first half. In the second leg, his deflected shot served as an assist for the lurking Donny van de Beek.
The winger provided an assist to the midfielder yet again in Ajax's first-leg fixture in the semi-final against Spurs. He also scored his team's second goal in the second leg before Lucas Moura came on to wreak havoc and shatter Ajax dreams with a hat-trick.
Ziyech is an automatic choice in the 2018-19 UCL Squad of the Season.