Mohun Bagan v Peerless
CFL 2018: Mohun Bagan's Sankar Lal Chakraborty: We had to pay the price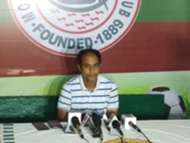 Mohun Bagan were held to a 1-1 draw by Peerless SC in their fourth match of the Calcutta Football League (CFL) 2018 at the Mohun Bagan/CCFC ground on Thursday evening.
Henry Kisekka opened the scoring in the 73rd minute but an injury time goal by Ansumana Kromah against his former club prevented the Mariners from picking up full three points. 
Both Kisekka and his strike partner Aser Pierrick Dipanda missed a host of goal scoring chances throughout the match. Their wastefulness came back to haunt them when Kromah equalised from close range.
Sankar Lal Chakraborty, the Mohun Bagan gaffer, had no qualms in accepting that his boys were poor in front of goal and had to pay for their profligacy.
"We played good football and it never seemed that we would draw the match. We created a lot of opportunities but could not take them. So we had to pay for it. And we conceded the goal due to lack of concentration," Chakraborty told reporters after the game. 
On the other hand, taking a dig at Mohun Bagan, Peerless SC coach Biswajit Bhattacharjee was quoted, "We could have won the match 4-2."
Refuting to the claims of his counterpart, Chakraborty hit back," I can only tell Bishu Da (Biswajit Bhattacharjee) to watch the replay. He is an educated coach and yet his players are bent on wasting time. He (unexpectedly) took 20 minutes to come out from the dressing room at the beginning of second half. I am sure if he watches the replay, he would agree that Mohun Bagan should have won the match."
It has been a regular occurance in the ongoing CFL that Mohun Bagan would score in the final quarter game after playing insipid football throughout the match, only to then resort to defending that slender lead. However, the former assistant to Sanjoy Sen does not see this as a problem and urged his team to focus on the positives.
"It is not our players are not trying to score in the first-half. It happens in football. But it shows that my players are fit. They are motivated. We finally scored after missing so many chances. But once again I would blame lack of concentration for the goal we conceded. At the same time I accept we need to improve our overall defending." 
Shuffling between 3-5-2 and 4-4-2 formations, Chakraborty is yet to find the right combination for his team. He started with a three-man defense in the previous two matches but reverted to the latter formation while admitting that he is forced to change his combination in order to fill the void of scoring goals.
"I am being forced to change my midfield combination as we are not being able to score in first-half. So to find the right option I am making those changes. It is clear that we want to become champions and for that we must make a comeback on Sunday," he signed off.