CECAFA Club Cup
Cecafa now shuts the door on AFC Leopards' hopes to feature in tournament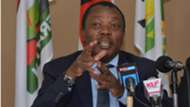 Cecafa have confirmed that they will not replace Gor Mahia if they pull out of Cecafa Kagame Cup that kicks-off on Friday.
Cecafa secretary Nicholas Musonye has revealed to Goal that it will not be possible to get a new team thus shutting the door on AFC Leopards, who were preparing to fill the void left by the Kenyan champions.
Musonye has also accused Gor Mahia for sabotaging Cecafa. "They have not informed us officially of their intentions to withdraw but that is a big way to sabotage Cecafa. They (Gor Mahia) should have informed us earlier enough if they were not prepared to take part.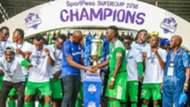 "We will proceed with the tournament with or without them and it will not be possible to get a replacement. The tournament starts this week and getting a team to fill the void will not be possible as time is running out."
On Friday, a top Gor Mahia official revealed to Goal that the team will withdraw from the tournament to concentrate on other matters.
"As things stand now, we are going to pull out of the tournament. It is a difficult situation that we find ourselves in but we have no option than to withdraw."
The official as also warned Gor Mahia players to resume training or else they will be replaced. "The players and the technical bench received their allowances after winning the Super Cup, and if a player tells you otherwise then it is a lie.
"We will be forced to punish some of the players if they don't resume training. All these players have signed contracts with us meaning they were contented with what we were offering. Going against a written and signed document is breach of contract and we can take action."
Gor Mahia were due to kick-off their campaign with a match against Rwandan champions Rayon Sports on July 1, take on Lydia before winding up their Group C campaign against Ports on July 4.
Yanga of Tanzania and St. Georges of Ethiopia are among the teams that have already withdrawn from the tournament and have since been replaced by Singida United (Tanzania) and APR of Rwanda.