Fandi Ahmad
Catching up with Singapore's national team coach; Fandi Ahmad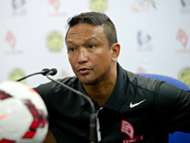 On the 12th of June a media event was held in celebration of the heritage of Queensway Shopping Centre and local specialty football store Weston Corp's, role in turning it into what it is today as a go-to destination for sports enthusiasts across the island.
Gracing the event was local legend Fandi Ahmad along with his two sons providing Goal.com Singapore to catch up with Singapore's favourite footballing son, as we asked how Weston Corp played a part in his illustrious career.
"Westorn Corp used to give us national players special rates when we were buying boots.  Moreover we know the people working there and so it is like one big family,"
"I would also bring my friends from Thailand and Malaysia to Westorn Corp because they have a wide variety of footballing gear," mentioned the 56-year-old.
Speaking about football boots, every football player has a favourite pair of footballing boots that they have a strong preference to and Fandi is no different.
"I loved the Copa Mundial boots however they were pretty expensive. Instead I used to wear 'hockey boots'; cheap boots made from rubber which cost five dollars."
"My first footballing boots were the Adidas Chile and my father had to owe the shop. And every month we would pay a certain amount of fee which was tantamount to an instalment plan."
"However the best boots I ever wore were the Adidas La Plata and it tremendously helped with me with my goalscoring exploits."
From footballing boots to his two sons which were sat beside him.  Being a coach and a father has its challenges but Fandi's formula has always been simple.
"On the field they are all my players but off the field I try to give them advice as a father. Teach them what is right and wrong not only in football but in life too."
"If my boys don't make it as a footballer, they must be good people. They must have dedication, determination and are willing to make sacrifices because that is how one gets far in life."
"And more importantly I teach them to be humble. Because when you are humble you won't stumble. Even if you stumble there will still be people to help you get up."
Lastly, as Fandi was named interim head coach of the national team, he was asked what his hopes were for Singapore at the upcoming AFF Suzuki Cup in November.
"At the moment I hope we can prepare them in the best possible way because we don't have much time. Hopefully the leagues around the region can finish early so we can get more preparation time,"
"We want our players to arrive in top form because we don't want to go back to working on their fitness routines again. It is a challenge due to the time constraints," lamented the 56-year-old.
"But I believe in these boys. Singapore football needs a boost and I am hoping we can give the fans exactly that when we kick-off our campaign in the Suzuki Cup."