Manchester United
'Can a manager be sacked at half time?' - Mourinho mocked before Man Utd fight back against Newcastle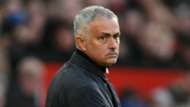 After a rocky week, things looked to be getting worse for Manchester United - and their fans were distinctly unimpressed. 
At 2-0 down, the pressure was mounting on United and boss Jose Mourinho following a string of disappointing results to start the Premier League season. 
United started the weekend marooned in 10th spot, and things looked to be getting worse on Saturday as Newcastle United hit twice in the first half to further plung them into the mire. 
Kenedy hit first against his old Chelsea boss, before Yoshinori Muto hit minutes later to double the deficit for the hosts. 
Though the Red Devils did rally for a 3-2 victory after goals from Juan Mata, Anthony Martial and Alexis Sanchez, with Mourinho's job said to be on the line, he was the focus for criticisms for a lacklustre first half at Old Trafford. 
Can a manager be sacked at HT?

— R™ (@RealTalkMUFC) 6 de octubre de 2018
Rumours: " Man United will sack Jose Mourinho this weekend despite the result of the match against Newcastle"

- Jose "Hold my beer". pic.twitter.com/U6LDb1qQbF

— Filipe Orlando (@MrFilipeOrlando) 6 de octubre de 2018
Man United fans when they turn on #MUNNEW pic.twitter.com/k0b4jK4agr

— NBC Sports Soccer (@NBCSportsSoccer) 6 de octubre de 2018
Newcastle are up 2 already? Alright, these players really want Mourinho gone.

— Zito (@_Zeets) 6 de octubre de 2018
Losing to Newcastle is all part of the masterplan of fighting from within to unseat the Glazers. What a freedom fighter Jose Mourinho has proved to be.

— John Brewin (@JohnBrewin_) 6 de octubre de 2018
The rest of the Premier League watching Jose Mourinho and Manchester United. pic.twitter.com/pqDU8a0JBB

— The State Of Play (@StateOfPlayPod) 6 de octubre de 2018
Antonio Conte, inventor of the phrase "Mourinho Season", must be absolutely pissing himself.

— Jack Pitt-Brooke (@JackPittBrooke) 6 de octubre de 2018
Rafa Benitez running José Mourinho outta town is beautiful.

— Muhammad Butt (@muhammadbutt) 6 de octubre de 2018
Mourinho sold Mata at Chelsea because he didn't think he was good enough. Now he's bringing him on after 16 minutes and 2-0 down at home to Newcastle to try and save his job. Wonderful.

— Paddy (@VieiraPaddy) 6 de octubre de 2018
Players are an absolute disgrace. We all know Mourinho is going but where's the professional pride/passion? I've never seen the club in such a state. It's over. Fans aren't even a consideration. #MUFC

— Tom McDermott (@MrTomMcDermott) 6 de octubre de 2018