FKF Premier League
Caf Champions League: Caf slaps fine and ban on Muguna and Oluoch after Napsa Stars fracas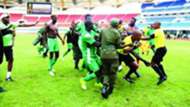 Kenneth Muguna and Boniface Oluoch have been suspended from taking part in Confederation of African Football (Caf) assignments and fined after being found guilty of unsporting behaviour in their third preliminary qualifying round game, against Napsa Stars.
The duo acted aggressively as Gor Mahia conceded a penalty late into the match which was converted and as a result the match ended 3-2, ensuring the Zambian outfit advanced to the group stage.
"After the match, Gor Mahia players Boniface Oluoch and Kenneth Muguna attacked and used abusive language against the referees," read a letter to the club and obtained by Goal.
"They were stopped by the police. Gor Mahia players also broke three windows of the stadium dressing room that they were using."
The Caf Disciplinary Board then went on to pass the judgment to the involved players, as well as fining them.
"[Caf] suspends both players, namely Boniface Oluoch and Kenneth Muguna for their next four Caf inter-club matches," the letter continued.
"[Caf] imposes upon each player a financial sanction of $15,000 (Ksh 1.6 million) for their regrettable aggressive behaviour against the referees."
The East African heavyweights will also have to bear the costs of the damaged property.
"[Caf] instructs Gor Mahia club to check the cost of damages incurred by Napsa Stars and reimburse them the cost of damages caused by their players." 
All parties involved will have room to appeal the ruling made.
"This decision can be contested before the Caf Appeal Board. The party intending to appeal shall announce his intention in writing within three days of notification of the decision. 
"Reasons for the appeal shall be given in writing within a further time limit of seven days, commencing upon the expiry of the first time-limit of three days  
"The deposit mentioned in article 58 of the CDC must be paid to Caf's account. The appeal is invalid without the relevant deposit within the relevant time limit. The decision becomes final at the expiration of the appeal deadline." 
Efforts to reach Gor Mahia for a comment were futile as our calls went unanswered.