Ghana
Burnley coach praises Agyei after Manchester United showdown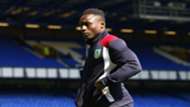 Burnley boss Sean Dyche has shed light on his decision to bring on youngster Daniel Agyei in the second half of last weekend's defeat to Manchester United in the Premier League.
The 19-year-old of Ghanaian descent was a 75th minute substitute as the Red Devils claimed a 2-0 away victory at Turf Moor.
His third topflight appearance, the former Coventry City striker made his debut against Liverpool last month.
"It's a big ask coming on against these [big boys] but we want him to understand that's the reality of the Premier League, to try and affect a game when you're 2-0 down [like was the case]," Dyche said, according to Burnley Express.
"It's all part of the learning process for a young player. We didn't do it for that reason, that's a knock-on effect, we did it because we believe he could have affected [the game].
"We're not playing around with it, but it's part of him growing and learning as a player. I thought the crowd were terrific with him, he's a very [strong] young man to come on in a game like that.
"He's realized the tempo and the pace of the Premier League. It's important we remain focused on what we're doing now."
Agyei joined Burnley from lower division outfit AFC Wimbledon in 2015.
Recent media reports say the frontman has emerged as s transfer target for Everton.
Born to Ghanaian parents in England, the forward is yet to represent either country at any level.