Gianluigi Buffon
Buffon confirms Italy retirement: I gave everything that I had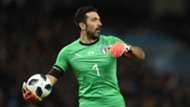 Goalkeeping legend Gianluigi Buffon has confirmed his decision to quit international football.
The Italy and Juventus icon had previously intimated his desire to hang up his gloves from the national stage in 2017 but made a brief return under Luigi Di Biagio in the spring. However, he turned down the chance to feature in post-season friendlies against Saudi Arabia,France and Netherlands, fuelling speculation he was ready to quit.
Having elected to leave Juve this summer, the 40-year-old will open an entirely fresh chapter, having moved also to retire from the Azzurri.
"I gave everything I could and I had, and now the time has come to leave room for younger players," he said. "I started to wear the blue shirt when I was still a kid and I think I gave the answers that were expected and that I expected.
"Now we need these guys to take responsibility to be able to grow as professionals."
Buffon claimed the World Cup with Italy in 2006 but missed out on the 2018 edition following a shock playoff loss against a Sweden side that have progressed into the last 16.
Although the 176-time capped player missed out on playing in Russia, the keeper is still enjoying watching the action unfold from afar.
"I'm having fun because there are so many nice surprises, in my opinion," he said. "There are many teams who can hope to win the final."
While he has not confirmed his intentions at club level, reports in France suggest that he is poised to sign a two-year contract that will take him to Paris Saint-Germain, with the deal expected to be concluded at the end of the week.