South Africa
EXTRA TIME: Buckley, Makaab and September question stadium attendance in South Africa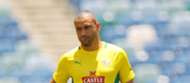 On the bright side, Bafana Bafana reserves excellent performances whenever there's low stadium attendance for their games.
The fans have previously joked that it's a good idea for them to stay away, so that South Africa plays better without the pressure of the crowd.
Though, one has to look at the opposition, Seychelles. The Pirates didn't inspire fans to attend the game during the rainy weather.
We need supporters to brave any type of weather to support Bafana Bafana.
Here you can read about how key figures in South African football noted the issue on social media.
That includes famous agent Mike Makaab, presenter Robert Marawa, the Premier Soccer League's manager Lux September and Bafana legend Delron Buckley.
What should Safa do to improve attendance at Bafana games?
It's the same with the PSL attendances...in most other countries on the continent stadia are mostly full. Truly, is anything being done about? https://t.co/mu5r5A4vce

— Mike Makaab (@MikeMakaab) October 13, 2018
Jam packed ONLY with emotion here......otherwise this is the turnout for the Bafana vs Seychelles Afcon Qualifier at the FNB STADIUM. pic.twitter.com/uRCxQl2JLP

— robertmarawa (@robertmarawa) October 13, 2018
You hit the nail on the head. https://t.co/3hbpdvrqtm

— Delron Buckley (@DelronB) October 14, 2018