Opinion
Breakfast with the stars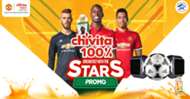 If you had to choose between having a complete breakfast and meeting your favourite football stars, which would you choose? Well, guess what? You don't have to choose. You now have the opportunity to have both, yes that's right!
We know how much you love football and your favourite stars. They control our emotions on and off the pitch, and our lives virtually revolve around them, from buying customized jerseys to purchasing tickets to watch them play live. 
Now you have a chance to enjoy a complete breakfast with your favourite football stars, courtesy of Chivita 100% Fruit Juice Limited Edition Packs featuring stars like; Zlatan Ibrahimovic, Paul Pogba, Anthony Martial, David De Gea, among others in the "Breakfast with the Stars" campaign.
You can #DareToConquer any challenge of the day just like Zlatan Ibrahimovic, or #DeclareMartialLaw with Anthony Martial, or #BackWithaBang with Paul Pogba, or #SaveTheDay with David De Gea. Chivita 100% Fruit Juice is made from pure natural fruits with no added sugar or preservatives.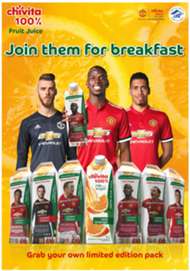 Visit any neighborhood store or supermarket, and grab a 1 Litre pack of Chivita 100% Fruit Juice Limited Edition Pack available in Real Orange, Real Pineapple, Orange Pineapple, Real Apple, Red grape and Orange Mango variants to enjoy breakfast with the stars and be 100% every day.
Follow our social media pages for more details and experiences.
https://www.instagram.com/chivita100percent/
https://twitter.com/Chivita100juice
https://www.facebook.com/ChivitaPremium/