World Cup
Bora Milutinovic bullish about Nigeria's chances of advancing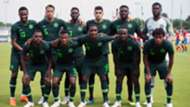 Nigeria may be the least ranked team in Fifa World Cup Group D, but Bora Milutinovic feels the three-time African champions have a great chance of qualifying.
Making their sixth appearance at the quadrennial football showpiece, Gernot Rohr's men must bypass Argentina, Iceland and Croatia in the 'Group of Death' to reach the knockout stages.
Milutinovic at different times managed the Super Eagles, Mexico and Costa Rica – and when quizzed about how his former teams would fare in Russia, the 73-old-year old claims that the Africans had the best chance of progression.
"It's easy to talk about it, but there will be truth in the field and it may be different," Milutinovic told Goal.
"There is Mexico, which is a team of qualities, and certainly has chances to pass. It will be played on small things. Compared to the calendar, they are not really advantaged.
"They play their first match against Germany. It is a difficult group, especially since there is Sweden, whose style of play is totally different."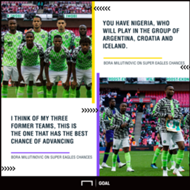 "Regarding Costa Rica, they fell in the group of Serbia. And I am Serbian and I, therefore, remain above all to support my country," he laughed.
"In any case, their task will be complicated because they are with Brazil. And there is also with them the Switzerland of Vladimir Petkovic, who is also from the Yugoslav school.
"Finally, you have Nigeria, which will play in the group of Argentina, Croatia and Iceland. I think that of my three former teams, this is the one that has the best chance of advancing."
Milutinovic led Nigeria to the 1998 World Cup in France where they bowed out to Denmark in the Round of 16.
Rohr's men begin their quest for glory when they take on Croatia in their opening game on Saturday in Kaliningrad.


Quotes supplied by Naim Beneddra