PSL
Benni McCarthy: I know what Orlando Pirates need, I've worn the shirt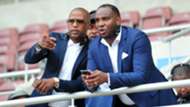 Legendary  Bafana Bafana striker Benni McCarthy has only recently completed his coaching badges.
However, this has not stopped the speculation linking McCarthy to almost every vacant managerial position in the country.
The former Uefa Champions League winner sent ears wagging when it was reported that he hopes to begin his coaching career in the Premier Soccer League (PSL).
His recent pronouncement only fuelled speculation further, regarding him taking over the reins at his former team, Orlando Pirates.
"I'm honoured the fans think of me in that way, and think I have what it takes to manage such a great historical club. And if I ever got the opportunity, there would be no way I would turn it down," McCarthy told the Saturday Star .
"I know what Pirates need. I've worn the shirt."
McCarthy also expressed his desire to be given his chance on merit rather than be judged by his past exploits as a footballer.
"I don't want people to say the only reason I was given a job was because I wasn't a bad footballer. I've worked hard and educated myself," McCarthy said.
"I don't want favours, I must be in a job because they think I'm the best guy for it and that I deserve it."
"When you aspire to become a coach, that has to be on your bucket list. Playing on a world stage is the ultimate," McCarthy concluded.