KPL
Bandari and KPL defender of the year Felly Mulumba open to switch nationality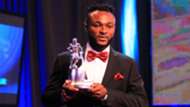 Kenyan Premier League defender of the year Felly Mulumba is still open to change nationality and possibility feature for Harambee Stars.
The Bandari defender and Congolese national says that he is open to acquiring a Kenyan passport if he is approached.
"For now I am a Congolese but I can (switch nationality) but the truth is I am not the one to decide that. If the right bodies like FKF come for me and the right paperwork is done, then it is possible."
Meanwhile, Mulumba, who lost only once with Bandari in the second leg, has warned that the Dockers should brace themselves for a tougher season when the league kicks-off on December 8.
"We performed well, but we know that the season is just about to start, it will not easy one. We want to prepare well and work even harder to be in a good position."