KPL
Bamburi Cement too good for Total Kenya in Left Foot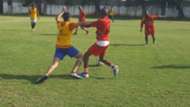 Bamburi Cement cruised to a comfortable 5-0 win over Total Kenya as Mombasa edition of Left Foot Sports Amateur league entered week two.
The clash pitting two giants of the corporate world saw Bamburi claim bragging rights after a hat-trick from Kevin Mwero and a double via Peter Mbaru.
In other matches, Tradewinds Aviation Services hammered Maersk Group 4-1, while Texas Alarms beat Kitchen King 2-0. The Mombasa league was launched last month with a total of nine teams taking part.
The nine teams that have been cleared for the new season are Bamburi Cement, Total Kenya Limited, Consolebase Limited, Kenya Bay Beach Hotel, Tradewinds Aviation Services, Kitchen King Limited, Texas Alarms Kenya Limited, APM Terminals and One Africa Logistics Limited.
Left Foot Sports also runs similar league in Nairobi that has been divided into eight divisions.