South Africa
Senegal make Burkina Faso's appeal pointless after beating Bafana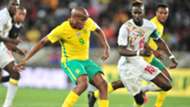 South Africa has officially failed in their bid to qualify for the 2018 Fifa World Cup following their Tuesday's 2-1 defeat to Senegal.
Stuart Baxter's men were given a glimmer of hope hours before kickoff as the Burkina Faso Football Association confirmed that they had filed an appeal with Court of Arbitration for Sport (CAS) to have the result of the replay between Bafana Bafana and Senegal nullified.
Bafana needed to beat the Teranga Lions in front of their home fans, and hope that CAS rule in favour of Burkina Faso on December 1, 2017.
However, Tuesday's result means that Bafana can only finish behind both Senegal and Burkina Faso even if they were to be given back the three points gained in November 2016.
This means Burkina Faso's appeal and a resounding 4-0 win over Cape Verde Islands are pointless as they also cannot catch Senegal even if CAS ruled in their favour.
Sita Sangare, who is the current president of the Burkina Faso FA, was confident that his charges would secure a ticket to Russia, but Senegal spoiled the party with a last-minute goal against Bafana.